I was taking a week-long Deep Writing workshop with the extraordinary creativity coach Dr. Eric Maisel.
I've been writing for a long time now, so this wasn't a how-to class, it was more about connecting with my work on a deeper level. What I learned about myself is that I was ready to fully embrace the writer's life.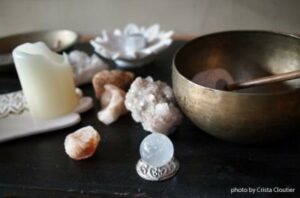 What does that mean?
It meant that I was committing to writing every day as a practice. Because that's really what being a writer is all about. Writing. It's not about being published. It's not about accolades or money. It's about sitting my behind in front of a blank screen every day and filling it with my ideas.
It's the same for all artists.
Consider your journey. It begins as an interest, a hobby. Maybe you've always made art? Maybe you've taken a break and just started again? But you suspect that this art thing is more than something you just do, it runs deeper than that. It feels like it's part of who you are.
The next phase happens when you start making good work. You've been doing it for awhile, but now something has really clicked. Your ideas start coming together, your work speaks to you and even to others. You begin to suspect that you might actually be … good.
And then you don't.
One moment you're feeling great about your work and the next you're terrified. You struggle with confidence, with direction. And the only reason you keep going are those wonderful moments of clarity and connection. They're addictive. But life still gets in the way. You take a day off, and sometimes that day becomes a month or a year. Or more. But like a lover you can't resist, art keeps drawing you back.
And now you feel ready. You're tired of playing artist. You want to step into the role, to fully commit to becoming a Working Artist. But you don't know how.
This is where you devote your time to your practice. Maybe not every day, but a consistent schedule that you stick to. No more starting and stopping. No more allowing the fears and doubts to get between you and the work. You fully step into your Self. You become a Working Artist.
But what about money? How do I sell my art? It's fine to be working every day, Crista, but artists gotta eat too.
You're right. And this is the question I get asked most frequently. How can you sell your art? Everyone seems to think there's a magic formula to this stuff. And they're right.
Do 3 things each day toward marketing your work.
It could be a blog post, contacting a gallery, hiring an Artist Coach or researching grants. It could be a social media update, writing a new Artist Statement or planning an Open Studio event. It could even be taking an online workshop like The Working Artist or booking a Creative Career Catalyst Session with me!
Really Crista? Three marketing tasks a day? It's that easy?
Yes, it is. They could even be teeny tiny tasks, that's what I do, but at least it's forward movement.
Great talent and wishful thinking does not equal a business strategy. And we are talking about a business. But remember, the quality of your results depends upon the quality of your actions. So writing a half-hearted Artist Statement and stopping at the first draft because you hate writing, or sending blanket e-mails to galleries because you're too shy to contact them properly, or relying on The Google for your professional information because it's easy, aren't going to give you stellar results.
To play in the big leagues, you've got to up your game.
What I know for sure is that small consistent steps will deliver the results you seek. And I'm not alone; Dr. Eric Maisel preached the same formula at my writing workshop.
Understand that it takes time. And there's no final destination. Once you achieve your professional goals, you'll set new ones. Art Marketing has become part of your practice.
Whether you're ready to fully embrace your role as a Working Writer, a Working Artist, or a working anything, you've got to commit yourself to the work itself. And to bring it out into the world, you've got to commit to the tasks that will take you there.
This is the magic formula to success. So now the question is, what are you going to do with it?
Join my list, it's FREE! You'll learn how to approach to art-world decision makers, create new revenue streams, and get paid more by being who you are – an artist.