I was recently interviewed on the Passionate Painter Podcast about how to use your creative voice to build your art business.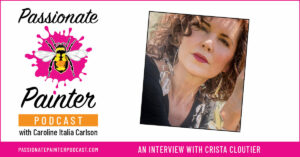 I shared a lot of information that I thought might serve you, so I'm sharing the link here.
The host, Caroline Italia Carlson, asked some really great questions. Our conversation included:
The biggest career mistakes that artists make
How not to play "small"
The strongest affirmation I think an artist can use to propel forward
How to deal with negative feedback

How to organize

(!)
And much more career advice for working artists
I hope you enjoy listening to this conversation as much as I enjoyed having it!
Crista x
Join my mailing list for more free inspiration and resources: