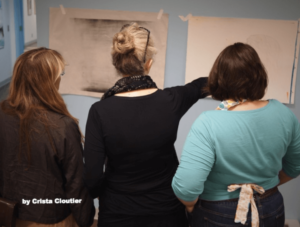 Every creative person I know has certain things in common.
We crave feedback. We want our work to be seen and we desperately want to know what our work says to the viewer.
At the same time, creative people hate criticism.
To be fair, everybody hates criticism.
Constructive or not, criticism isn't nearly as much fun as being told our work is brilliant.
But artists need feedback.
That feedback can't always be positive. It's unfair to expect otherwise. It's also unfair to blame the messenger.
Remember, every viewer brings their own experiences, aesthetics, and ideas to the work. Their response to your work is as much about them, even more, than it is about you.
So how to handle that needed feedback when it isn't full of sunshine and roses? When it raises your hackles and makes you defensive?
First of all, embrace the fact that a huge part of being an artist is learning.
The most successful artists are open to new ideas. They strive to constantly improve their work.
So think of feedback as learning.
Like anything you learn, you've got to discern what holds value and what doesn't.
Not every comment about your work is going to be relevant.
I've found that the best response to a negative opinion is, "That's interesting."
That's interesting is open, not defensive. It's a polite response.
That's interesting doesn't accept nor discount, it allows space for consideration.
That's interesting allows you to deliberate. It creates space for your ego to accept the feedback without feeling small.
That's interesting offers an opportunity to learn, and perchance to grow.
So don't fear negative feedback. And more importantly, don't allow it to hurt you.
Your job – as an artist – is to learn what holds value for you and what doesn't.
And that, dear artist, truly is interesting.
Learn how to approach to art-world decision makers, create revenue streams, and get paid more being who you are – an artist. Join my list, it's FREE, and I'll share everything I know about working as an artist.