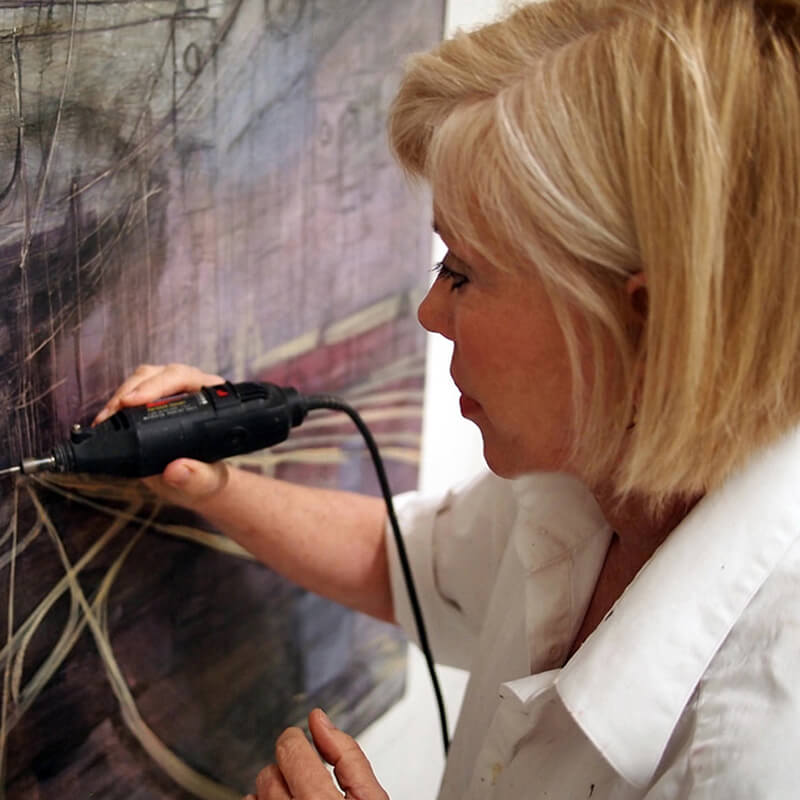 Rewind to the Great Recession of 2008. Galleries closed. Art dealers moved on. Curators chased other professions.
Karen Jilly, a mid-career artist who unlocks beauty in deceptively ordinary, forgotten cityscapes, suddenly found herself without key trappings of the art business. She was also faced with the immediate need to care for two aging parents.
"I decided to take a break from art. It seemed like a good time to focus on family. So I stepped away from the art world," Karen said.
Karen converted her studio into a caregiving space. Any last artworks that she created were given away. She even stopped subscribing to art magazines, going to museums and galleries or staying in touch with other artists. "I purged myself. I thought I would feel better not doing art," Karen explained.
But Karen didn't feel better. "In my heart, I couldn't really stop making work," she lamented.
Not being an artist began to erode her confidence. "I lost my self-esteem, I lost a sense of value in my work and I lost my voice as an artist. I completely lost my identity," Karen described.
Fast-forward five years. Karen received a call from former gallery director and friend Crista Cloutier.
Crista was building The Working Artist, a new online course for artists. After hearing about Karen's situation, she persuaded her to try the class.
Karen was distraught: "I was hesitant. I didn't know what to expect. I had lost all faith that I could even draw or paint. I felt unworthy to take Crista's course."
Karen's reaction to Crista's curriculum was tenuous. She wondered if she was just too old or too exhausted to start all over?
In a Working Artist video, Crista described a litany of things that artists tend to pigeonhole about themselves—from too old or too young, to lacking money or time. It was the catalyst Karen needed. "Crista's unique insight hits on all of the inner struggles that artists have."
As Karen pored through The Working Artist, she gained confidence and momentum. "Crista's teachings helped me rediscover my artistic voice and how to reexamine my entire body of work," Karen emphasized. "Her methods have a way of cutting through to pin-point your stumbling blocks. She helped me uncover what I was really trying to say with my art at a time when I felt like I had forgotten how to even speak about my work."
"I have a real sense of wonder and purpose in my work again," she mused. That's what I'd lost: something calling me in the morning; having something to wake up for."
Now, the woman who tried to erase herself as an artist is rising again like the Phoenix, mirroring the city she calls home. Karen Jilly, who once ignored her deepest callings—is now the subject of a 25-year museum survey!
The show "Alternative Beauty: The Work of Karen Jilly" opened at the Mesa Arts Center in Arizona, accompanied by a stunning 52-page catalogue.
You can see Karen's powerful work at https://karenjilly.com
Learn how to approach to art-world decision makers, create revenue streams, and get paid more being who you are – an artist.

Join my list, it's FREE, and I'll share everything I know about working as an artist.