This is a workshop I recently led for a private group of artists. Now I'm sharing it with you – for FREE!!!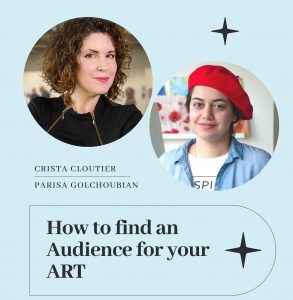 Bring paper and pen as you watch because you'll learn:
How to identify what makes your work special
The best ways to identify potential fans
Building art-world relationships naturally
The most important questions to ask collectors
And so much more!
Toward the end of this video, I offered these artists a 50% discount on my own program, The Working Artist Masterclass. https://theworkingartist.com
It's only fair that I extend this opportunity to you.
If you're interested in working with me, click here and use the code PARISA for 50% off the listed price. But hurry! This offer ends Monday.
Learn how to approach to art-world decision makers, create revenue streams, and get paid more being who you are – an artist.
Join my list, it's FREE, and I'll share everything I know about working as an artist.