For as long as artists have been creating there have been myths about what it means to be a professional artist. Stereotypes of the 'starving artist' or the 'eccentric weirdo' seem to follow us wherever we go.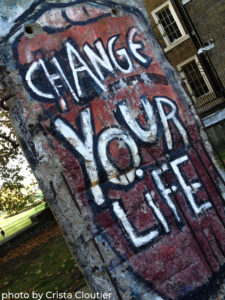 Professional artists come in all shapes, sizes and personality types. And many of the common myths about artists simply aren't true. The problem arises when artists themselves buy into these stereotypes, creating unnecessary drama in their lives for the sake of invoking the Muse. 
In this article, we'll explore the most common misconceptions around what it takes to be a professional artist. 
Myth #1: Artists must suffer for their work 
This is a played out trope that romanticizes the life of an artist. In order to make good art, we must suffer. Well I don't know about you, but I know plenty of professional artists that didn't have to lop an ear off to gain entrance into the art world. 
While it's true that great art is often inspired by powerful emotions and experiences, this idea that we need to live in perpetual chaos in order to create is absolute hooey. 
Showing up to the art studio when you're feeling utterly uninspired and painting anyway? That's the mark of a professional artist. 
Myth #2: Artists aren't good at business 
Unless you're an artist who has zero interest in selling your art, you likely know a thing or two about business. When you're not putting paint to canvas, you're most likely updating your website, marketing your art online, building your CV, attending art shows to network, or tackling your dreaded taxes. 
Those activities sound a lot like doing business to me! Artists are entrepreneurs, fact. And the myth that artists aren't any good at business is simply not true.
Myth #3: Once you get into a gallery you've made it
While this might have been true in the 80s, the role of the art gallery in an artist's career has changed dramatically since the emergence of social media and the internet. Nowadays, it's not enough to get your art into a gallery and pray they'll promote it. 
The responsibility for promoting and marketing your art sits firmly on the shoulders of the artist.
Myth #4: Artists never make good money from their art
Ah yes, the old "starving artist" myth. Snooze! This is one we normally hear from our non-artist friends and family. For some reason, at some point in time, the world decided that artists are incapable of selling their art and making a decent living wage from it. Famous and successful artists simply got 'lucky' and won the lottery. 
This myth is dangerous because it perpetuates the idea that someone is going to give you your lucky break, you just need to be in the right place at the right time. While that sounds lovely in theory, most professional artists make money through their art by sheer hard work and hustle. 
Myth #5: Artists are born, not made 
Wrong. Believe it or not, Picasso didn't emerge from his mother's womb holding a paintbrush.
 While artists may be born with an interest in art, like anyone who becomes incredibly talented, you spend years developing your craft as an artist. Talent doesn't magically appear the first time you put paint to canvas. 
It takes practice to get highly skilled in any medium, and art is no different.
Myth #6: If you can't sell your art, your art isn't any good
Good art doesn't sell itself, you do. And even though it might sting to receive art back from a gallery because it didn't sell – that isn't a reflection of the artwork. 
Selling art requires awareness around who your audience is and where they're looking to buy art. If you haven't quite nailed down your niche yet, that doesn't mean your art isn't any good. Art fairs are full of vastly expensive artwork that is, to be frank, rather mediocre. While other artists produce fantastic work that gets totally overlooked.
At the end of the day, you're the only true critic of your work, and only you can decide the value of your art.  
Myth #7: Every artist's goal should be to quit their day job 
For some reason, many artists live under the assumption that they're not professional artists until art is their only source of income. Not true! There are a huge number of highly successful artists who don't rely on selling art as their only revenue stream. 
Artists who rely solely on their art to make money have been making art for a solid 20 years and have built up a large following of collectors. So putting added pressure on yourself to sell art to pay the bills just adds unnecessary stress. And the irony is, your art will likely suffer as a result. 
Becoming a professional artist simply requires you to make art you love and then find an audience who appreciates it. 
So there you go, 7 artist myths debunked. The mark of a true professional artist is simply someone who commits to developing their craft and their voice. So get back to work, Artist!
Would you like to SHOW + SELL MORE ART? I've helped thousands of artists and I can help you too.
Join now. It's free. No spam. Unsubscribe when you want.