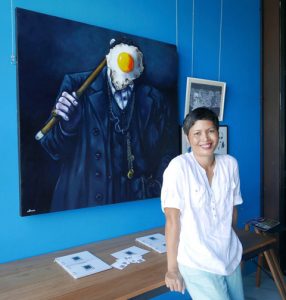 Thailand is a place known around the globe for its immense natural beauty, distinctive cuisine and a land punctuated by farmland and rice
fields. But what about Thailand as a place known for galleries and art?
Thai painter Ta Thimkaeo says, "Here in Thailand, art isn't viewed the same way as it is in other parts of the world. Thai locals generally buy photos of the King, not art. There are no art fairs, no exhibitions and no galleries."
Consider Thailand's limited art opportunities, and then consider that Ta grew up in a poor, rural farming village without running water and very little electricity.
To help her family make ends meet, she had to leave school at 12 to work in the paddy fields. By 13, Ta moved to Bangkok for work in a shirt factory sweatshop.
One day during her time at the sweatshop, Ta ventured out for a walk. She discovered an old man painting inside an art studio. Ta was completely transfixed.
The man invited her in and Ta fell in love with everything about the experience.
She imagined herself painting in a studio and becoming an artist just like that old man someday. "I didn't know how I was going to do it, but I knew I wanted to be an artist," Ta said definitively.
Life as an aspiring artist in Thailand wasn't easy.
Throughout her late teens and twenties, Ta's days were filled with long, grueling hours driving trucks. But she never lost sight of her artistic ambitions.
As the internet gave them more access to the world, Ta and her partner Gary tried to sell some of her early creative endeavors on Ebay. Eventually, Ta was invited to join an online art gallery. But she and Gary didn't move forward with the opportunity for nearly two years!
Ta explained, "I could see how an online gallery had potential but Gary and I just didn't know what to do with it. It was a completely different world."
Together Ta & Gary researched selling art online. They found countless 'experts' promising riches and fame, though most seemed to flaunt empty claims.
The duo came across Crista Cloutier and The Working Artist. Crista's message and approach seemed different from the other online coaches, so they decided to reach out. "We described our lack of access to the art world living in rural Thailand and our struggles to understand how to effectively sell art online," the couple said.
Crista wrote back to Ta & Gary and explained how she could help. "So we signed up!" Ta exclaimed.
From that point, the couple made the decision to combine forces to ensure Ta's artistic success: Ta would continue to hone her painting skills while Gary would become a student for Crista's course.
"Ta was still improving her paintings, but it wasn't the artwork that we needed help with; It was all the stuff that goes along with the art—writing about it, describing it, selling it. That's what we needed help with," Gary explained.
Gary focused on the lessons of The Working Artist Masterclass, acquiring a much better grasp of what he & Ta needed to do. "I worked day and night on that course—rewriting responses to the questions and doing the tests over and over so that I truly understood the lessons. I actually really enjoyed it. I left school at 15 and never passed an exam in my life. And now, here I was, testing myself while learning how to describe art!" Gary marveled.
After the course, Ta's art business started to see increases in sales.
After 6 months, ArtFinder announced Ta as its 'Artist of the Week' and things really took off. By 2018, ArtFinder promoted Ta as 'An Artist to Watch and Invest In,' which sent sales soaring again. Recently Ta was also invited to show online through the Paris-based Singulart.
Today, her artwork has already been sent out into 43 different countries, she's been featured in countless publications and her paintings are held in numerous public and private collections.
Overall, Ta & Gary credit The Working Artist Masterclass with a big shift in their confidence: with Gary's newfound ability to successfully run an online art business and with Ta's ability to sell her artwork as a recognized talent around the world.
Gary mused, "I like to think that The Working Artist course helped us to become more professional and helped Ta to build a fantastic artistic reputation."
But, Gary emphasized, "Don't get me wrong, it's not all a bed of roses. It's bloody hard work. Both Ta & I are working harder than we ever have, but we wouldn't change a minute of it."
"I used to always say that it would've been easier to walk on the moon than to become an artist in Thailand," Ta said. "But I grabbed art with both hands. I love it and I'm never leaving."
Clearly, the artistic dreams of a girl from the paddy fields are crossing the globe and shooting for the moon.
Curious to see Ta's incredible work for yourself? Visit www.artgalleryta.com
Would you like to SHOW + SELL MORE ART? I've helped thousands of artists and I can help you too.
Join now. It's free. No spam. Unsubscribe when you want.