"It's really easy to work as an artist!" said no one, ever.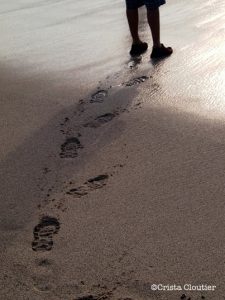 Most artists are really challenged when it comes to marketing their own work.
Are you?
Maybe you can't place your finger on what your style is? Maybe you play in more than one medium?
It's difficult to package something that feels so elusive – yet so close to you.
I tell artists to look at all of their work, really spend time with it, and find that golden thread that ties it all together.
It's in your heart. It's the "why" of why you make art.
And I'll let you in on a big secret. This is how you find your "brand". You live it.
And from here, from this place of authenticity driven by your creativity, you do the work and you attract an audience.
This is where the best art marketing comes from too.
It's from your heart, from offering the gift you have to the world. But doing it strategically and with passion.
It's about sharing your vision and not apologizing or playing small.
So when you use social media, when you build your website, when you send out your newsletters, when you promote an exhibition, everything you do says to the world, "This is who I am."
Does that sound scary? It should. Because vulnerability is scary. Really scary!
But it's also what makes people connect with your brand.
The way to success is to master your craft, to do good work, but even then, talent isn't enough.
I know that's difficult to hear, but it's true.
You also need to understand the business of art. You need to know how to market and promote your work. You need to know how to get your message across to an audience.
Your art is your responsibility but if you want to make it your profession, you're responsible for that as well.
It doesn't matter where you are in your career right now, if you aren't getting the results that you want, it's because this is where you have decided to stop.
So don't stop.
Keep doing.
To learn more about art marketing, click here.
Would you like to SHOW + SELL MORE ART? I've helped thousands of artists and I can help you too.
Join now. It's free. No spam. Unsubscribe when you want. 
Working in the international world of contemporary art, Crista Cloutier has spent her career selling art and marketing art to art galleries, museums and private collections. 
Using her professional experiences, Crista has created The Working Artist Masterclass, where she's developed a global reputation as an artist's coach. Crista can teach you how to be an artist; including how to sell your art, how to sell art online, how to sell photographs, how to price your art, how to succeed at art fairs, and even how to find your art style. 
Crista has worked with established, blue-chip artists to raise their profile and attract greater opportunities. And she's also helped thousands of emerging artists to build a professional art practice. To learn more, visit https://theworkingartist.com