Photographer Nick Levitin's first love was the theater. Freshly graduated from Boston University, he returned to New York City in the early 70s to begin his artistic journey as an actor.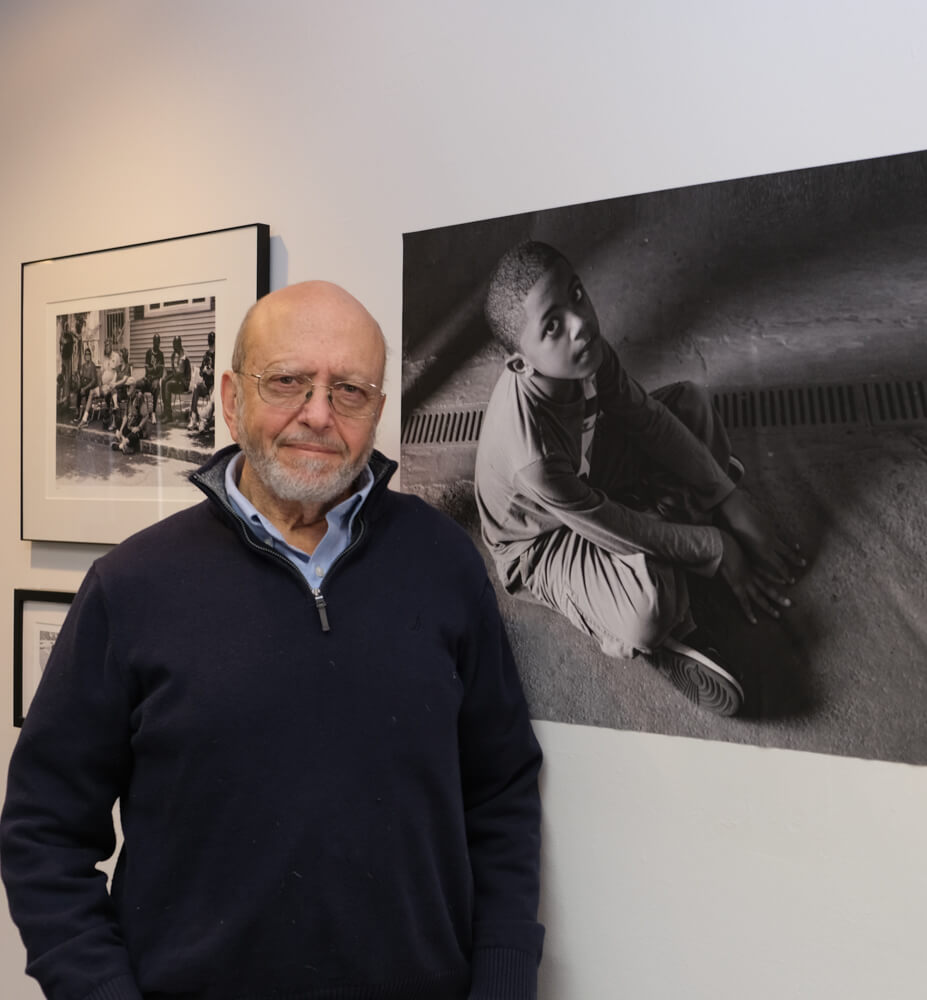 He also came back to the big city with a camera.
Nick carried it with him everywhere. He took great pleasure shooting documentary style photos of people as he roved the streets of New York. "Early on I was drawn to the internal world of the actor and the external world of photography," Nick mused. 
Little did he know that his early photographic interests would later emerge as his rebirth—from actor to artist. 
After juggling an array of day jobs while acting, Nick started a business photographing actors and theater productions. He observed how work in one area often informed the other: "Both involve storytelling, require a keen sense of observation and sensitivity to the moment, as well as an awareness of not only the 'decisive moment,' but the dramatic moment as well."
By his mid-40s, Nick gave up acting to support a family. "It was an extremely painful decision. My saving grace was photography," he said. 
Currently, Nick is 73 years young. He finds it amusing to think of himself as a late bloomer given that the last five years have led him into a completely new career path as a fine artist photographing people and landscapes. But he noticed some internal hesitation and uncertainty with this new role. 
He tried a photography boot camp course that didn't deliver on its promises and left him feeling disappointed. "It can be very lonely to be an artist," he lamented. "You feel as if you don't have a support structure. I had so many questions—Where do I go from here? How do I maximize this work to my advantage?"
That's when Nick saw a video featuring Crista Cloutier and The Working Artist Masterclass. He was intrigued. Her course for artists seemed refreshingly different. 
"Crista has a remarkable ability to connect with artists. She cares. That's something I felt right away," he observed. "She lays things out in such a way that make the impossible look possible," Nick said. 
Once enrolled, Crista's insight helped Nick examine and dispel what he describes as "all of the classic resistance of calling myself an artist." 
Nick emphasized, "Crista's insistence that we think of ourselves as artists and call ourselves artists is remarkably powerful." 
He also watched his feeling of isolation as an artist quickly melt away. "With Crista's guidance via The Working Artist, I felt like I finally had a partner in the work I'm doing," Nick explained. 
For Nick, another key benefit of the course was how it created order out of the chaos. "Crista's teachings enable artists to disentangle from the struggle," he stated. "There are so many challenges out there. It can be overwhelming and her emphasis on focus and discipline made it easier to deal with them all. I only wish I had done the course years earlier!" 
Since completing the course, Nick is already experiencing exciting developments with his new artistic trajectory. In 2019 alone, Nick has had three solo exhibitions, he's participated in two group shows and he's featured in an online Artsy exhibition showcasing his black & white works that capture the incredible social and cultural energy of the1970s in New York's Central Park. In addition, Nick has published a book of his photos from the 70s and plans to make another book soon. 
Crista's coaching on how to deal with difficult times was also extremely helpful. Two months ago, Nick suffered a minor heart attack. "It set me back," he said. But this coming year, strengthened with what he's gleaned from The Working Artist and his many recent accomplishments, he's determined to keep doing the work. "I'm hoping to explore getting into more galleries and entering as many fine art contests as I can," Nick said with brimming confidence and resolve. 
Nick adds, "For me, photography is not only a creative endeavor, but a spiritual one as well. I often experience the presence of the Divine in the connection between people, and with landscapes which speak to my internal world. I don't see a conflict between either focus—documentary vs. landscape. There is a harmony between them."
Want to see what Nick has been up to? You can view his inspiring work on his website at www.nicklevitin.com
Or, check out his "The 70s" exhibition on Artsy: https://www.artsy.net/73-see-gallery/artist/nick-levitin
Join my tribe and get FREE professional information about working as an artist!