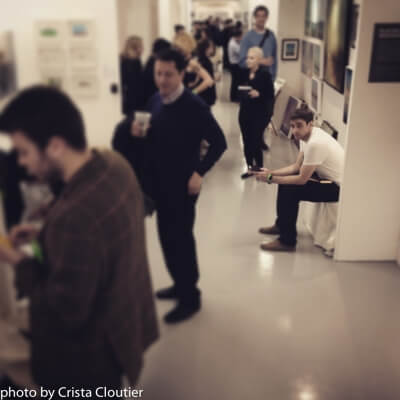 I'm just back from Art Expo New York and it really hit home for me how important these events have become.
FACT: Did you know that more art is now being sold at art fairs than bricks and mortar galleries? Overall, artists are now reporting nearly half their income is derived from art fairs.
But you don't have to be an exhibitor to get the benefits of attending a fair. It's so important to see what other artists are doing, what galleries are showing, and finding work that inspires.
Art Expo NYC
I consistently visit Art Expo New York. It's a tremendous fair, hosting over 1000 artists and galleries.
This year I decided to shake things up a bit.
I hired a film crew so that I could interview exhibiting artists about their art fair experiences. I am so grateful for the wisdom bombs they dropped.
Here's just a sample of what they shared:
Kristina Kossi stressed the importance of putting in the research first. She herself did a tremendous amount of work in preparation. In fact, I ran into Kristina as I was leaving last year's fair and she was arriving to check it out.
This year she invested in a booth and spent months planning every detail. It showed, her booth looked fabulous.
Michael Joseph agreed that research is an important component of doing art fairs. He advised getting organized and creating a system to make sure all the details are covered.
His booth was utter chaos when I showed up to interview him. The art had just arrived and crates were everywhere. But he confidently predicted that the whole space would be completely transformed within two hours. And it was, beautifully.
Socrates Marquez mentors a lot of younger artists in his Harlem neighborhood. He loves to share the lessons he's learned about showing and selling work.
Socrates explained the importance of branding at art fairs, it's all about consistency and authenticity.
Crystal Lockwood's been doing the art fair circuit for 36 years! She understands the importance of following up on all leads because the best sales often happen after the fair.
That's why it's so important to always stay positive even if things don't appear to be going your way.
Kris Gebhardt spoke about the other benefits of exhibiting at art fairs, because they can be about so much more than just sales. Art fairs are also helpful for building relationships – both with an audience and with other artists.
Art fairs breed stronger artist communities
I met so many wonderful, creative artists who are doing really interesting work, and I left Art Expo New York feeling connected and inspired.
Even if you don't have any plans to exhibit in an art fair yourself, I urge you to visit art fairs whenever you get the opportunity.
You will always find something to learn, someone to meet, and something to see.
*And if you want to learn more about how to build your career through art fairs, check out my online course Art Fair Essentials.*
Learn how to show + sell more art. Join here. It's free!