I'm still working on putting my own podcast together. It's a huge project, and is going to take some time.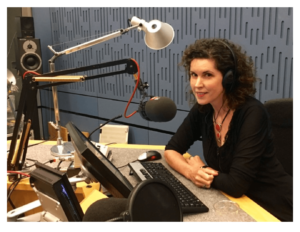 The Working Artist: A Step by Step Guide from Feather to Wings doesn't have a launch date yet, though it's definitely getting closer. And I'm getting more and more excited to share it with you.
To learn as much as I can about the genre, I'm listening to other podcasts every day. Most of them are aimed at artists, like mine will be.
I've come to realize that there's something for everyone in the Podcast World.
That's why I wanted to share what I'm learning with you through this series of Recommended Podcasts for Artists. Not everything I'm going to suggest will appeal, but if you stay with me and stay curious, I think you might just find a few shows that really speak to you. I know that I have.
My Favorite Artist Podcasts
I want to start by introducing to The Arty-Time Podcast.
This show really spoke to me in a big way.
From the first episode when artist Adam Millward shared his story, I found myself nodding along in agreement, laughing out loud, and wishing I could be there to join in the conversation.
This is an artist's podcast about being an artist, buying art, and selling art. To be frank, I don't agree with everything that's being said by Adam and his co-host Germdee, but they admit that art isn't a cookie-cutter industry. Take what you need and leave the rest.
Usually I recommend a specific episode, but for Arty-Time Podcast I suggest that you start at the beginning and keep going!
---
This show is advertised as the artist podcast that pushes you to pursue your creative passion. There are hundreds of episodes to choose from and from what I've heard so far, they all have value.
Two of my favorites include "Name Your Monster"with guest Jeff Wright. Even though Jeff isn't a traditional artist, his story is fascinating and holds a lot of wisdom for all creatives.
Jeff was a history teacher who suffered a brain injury and was no longer able to continue doing the work he loved – until he found a creative way to change his story from tragedy to success. If you've ever faced a challenge that felt might define you in a way you weren't comfortable with, this episode will speak to you.
Give episode #332 a listen as well. "Guard Your Attention" with guest Daniel Robinson was full of wisdom for creative people serious about their craft.
Daniel is a screenwriter but again, all artists share the same hurdles on this journey so it doesn't matter the medium, there is wisdom to be shared. In this episode, Daniel reveals his own long struggle to success and how he overcame his demons along the way.
---
This show advertises itself as "Picking up where the art degree ends." This long running show (now over 500 episodes to choose from!) mainly focuses on artists who work in ceramics but I found a lot here to listen to.
I recommend you start with this episode titled "Building A Brand: An Interview with Bhairavi Naik." 'Nuff said.
---
The Tree of Life Movement
The next artist podcast on my list is not necessary a podcast for artists but I'm going to recommend it for you anyway. I recently met the incredibly inspirational couple Scott and Marla Berger, founders of the Tree of Life Movement.
The more I learned about the Bergers and the story of the movement they've started, the more interested I became in their work. Obviously I'm not the only one because they've been invited to work with the Pope, yes the Pope, as well as the Queen of England, and many other Thought Leaders have been drawn to their mission.
This interview with Marla explores some of her philosophy and practices around using intention.
To learn more about their global Intention Stick movement, visit their website.
---
Art and Faith Conversations
Art and Faith Conversations is a podcast that's aimed primarily at Christians but it doesn't stop there. The conversations are intelligent, wide-wide ranging and inclusive.
The host asks wonderful questions and even the introduction to the series piqued my interest:
"A podcast for the spiritually curious to explore our human and spiritual identity through the integration of art and faith. Discover how we are innately designed to be creative and to find deeper meaning in life through artistic expression. Guests include musicians, dancers, painters, poets, writers, theologians, speakers, and teachers."
A few of the episodes that I recommend include this interview with painter Natalie Salminen Rude, who brings haiku poetry into her work.
And this episode with artist Chris Soal was an interesting example of following where our work takes us. I was super-curious to learn more about Chris and his sculptures after listening to him speak.
---
You will either love or hate this completely irreverent show. It's hosted by two sisters who claim they "feel dead inside" so each week they explore a different work of art to test if it makes them feel more alive.
The first episode is titled "Gaughin Is A Bad Bad Nasty Bad Man," and it includes their List of Grievances toward the Impressionist artist.
It doesn't really matter if you agree with their conclusions or not, this show is hilarious and thought-provoking and completely authentic and original.
---
Liron's Art and Creativity Show
Back in the more traditional podcast vein, Liron's Art and Creativity Show is a series of quick podcasts from an artist out of Tel Aviv.
A few of the episodes I liked include
How Long to Get Good in Art as well as
The Future of Art: Augmented Reality and Virtual Reality, and How To Sell Your Artwork
---
This show is aimed at fiber artists but Cindy is a really great interviewer who asks wonderful questions. Don't let the genre throw you off.
For example, I found her interview with Instagram influencer Eduardo Morales really inspiring.
---
If you're an art history geek like me, you might enjoy The Modern Art Notes Podcast. I love listening to smart people get together and go deep into an artist's work.
There's so much here to choose from! My favorites episodes include the fascinating survey of 19th century photographer Carleton Watkins and this interview with one of my favorite painters, the incredible Wayne Thiebaud.
---
Dave Conrey has had a long-standing podcast for artists about creative conversations and it's still going strong!
This episode on the new creative economy and how it's hurting artists was really thought-provoking. He talks about a lot of different things here and left me with much to think about.
This episode was about Dave's thoughts after agreeing to do an art show at the last minute and pulling it together in record time.  The premise made me laugh but the episode itself had a lot of valuable takeaways.
---
Finally, Elizabeth Gilbert's podcast Magic Lessons is aimed at all creatives, not just artists, and it's super-inspiring.
Be sure to check out the episodes with Brene Brown on "Big Strong Magic," (season 1 episode 12). Also don't miss "Dear Creativity and Fear" (season 1 episode 9).
These are my favourite artist podcasts. I hope you find something there that you really enjoy and feel free to send me your own recommendations!
Learn how to approach to art-world decision makers, create revenue streams, and get paid more being who you are – an artist. Join my list, it's FREE, and I'll share everything I know about working as an artist.