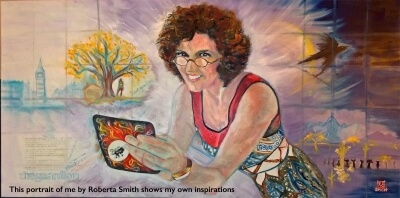 "Hey Crista, how do I develop originality and find my voice in the artwork?" one artist recently asked. "Do you have any tips?"
I do!
There are several things that artists can do to find their own voice and nurture it. In fact, these steps are included in the practice of most of the successful artists I know.
* Journal. Sometimes we don't know what we really think until we write it down. Journaling helps us to connect with ourselves in a deeper and more authentic way than any other tool available. Whether you choose to journal in words or by sketching pictures, do journal.
* Look at other art. Lots of it. Both historical and contemporary. Where ever you go, make it a point to spend time in front of other artists' work. Nothing will inspire you more.
*  Read. Art is about the communication of ideas. Even if the idea is as simple as beauty, it still deserves your full attention. Learn everything you can about your field, your medium, your subject, your technique, your market, your business… Never stop learning!
And remember, even if you struggle with reading, the world of ideas is not closed to you. Today there is a huge range of resources available to access the world of thought.
If you begin with these tips, you'll find yourself engaging with your creativity in a deeper way. Your ideas will flourish. Your work will connect with others in a more meaningful way.
No one said the path of an artist was an easy one, because it's not. But it is a joyful path. It is a significant path. And each artist's path is uniquely authentic.
I hold this wish for you:
That your journey be filled with curiosity. For curiosity will lead you back to your Self, revealing the powerful artist that lies inside.
The Universe is in conspiracy with artists, as we are fellow creators. So know that you are always supported.
If you're struggling with meaning or with the work itself, begin by looking outside of yourself. Pick up an inspirational book, visit a museum, make a studio visit and chat with a colleague. Or do what I do and go for a walk to ask a tree about it.
When you seek wisdom, it will always come.
Do you want to learn more about transforming your own art practice? Sign up for my mailing list today!