Critiquing art. I'm not going to lie to you, it can be a minefield.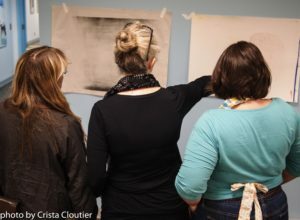 Having others critique your art and give feedback on your work is such an important part of becoming an artist. It's essential, actually.
But it's also scary as hell.
It's easy to fall into the trap of believing that the art critique is an evaluation of your personal value. It's not. In fact, an important step on your artist journey is learning how to separate yourself from your artwork.
Receiving meaningful feedback from your peers is invaluable. It's quite easy to lose perspective on your own work as you're creating it, so seeking out art critiques can provide you with valuable insight.
But at the same time, learning to critique art for others can help you become a better artist. How?
By knowing how to give a valuable art critique to someone else, you'll be able to look at your own work more objectively.
And more importantly, you'll know when someone is giving you a useful critique that you can use constructively. And you'll be able to recognize a useless art critique that you should probably just ignore.
With all that said, here's how to best critique art.
Step one: Describe
What kind of artwork is it?
What's the medium?
List the objects you see in the work
What do you notice first and why?
What textures can you see?
Shapes?
Colors?
What's the overall mood of the piece?
Step Two: Analyze
Take a closer look and analyze the art principles that were used in the piece. Describe how the artist used them to organize the elements.
What effect does the use of color have on the work?
How have lines been used strategically?
How has the artist played with light and shadow?
What role does texture play? Is the texture real or an illusion?
How has the mood of the piece been achieved through artistic principles?
Step Three: Interpretation
Based on what you've discovered so far in the artwork, in your opinion, what is the artist trying to say?
What is the statement this artwork is making?
What does it mean?
How can you relate this work to your own life?
What emotions or feelings surface when you look at this piece?
Why do you think the artist created this artwork?
Step Four: Judgment
After considering your own interpretation and analysis, now it's time to pass your judgment on the artwork.
What value do you find in the artwork?
Do you think the work clearly communicates an idea?
If you find the work to be poor, why?
If you find the work to be successful, why?
What kind of effect do you think the piece would have on other people?
If you think the work is simply 'okay', what do you think would make it stronger?
It's important to remember that everyone's tastes are different. Just as you may love someone's piece, another person may find it totally unappealing.
And if you receive a particularly negative art critique on your own work, please remember that your peers are criticising the art, they're not criticising you. Take the valuable insights they provide and let go of the rest.
Use art critiques to create stronger work and you will become a stronger artist in the process.