A Curriculum Vitae, otherwise known as a CV, is an overview of your professional art career. It includes your work history and any achievements you have gained on your journey thus far.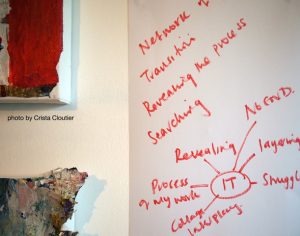 Common mistake artists make when writing their CV is trying to oversell themselves. Over-loading the page with meaningless content can hinder your connection with the reader. 
An artist's CV is not the place to be creative, save that for your work.
An artist's CV should be concise, well organized, and include all of your professional experience. Your artist's CV should be constantly altered and adjusted as you progress in your art career. 
Think of it as a factual document of your creative life. Whenever you achieve something new – whether you've had   a series of shows in art galleries for artists or hung one piece in a dimly-lit coffee shop – add it to your CV.  You 
Never lie on your CV. I've known artists who have and they never lived it down.
And don't be jealous of other artists' CVs. Keep to your own lane and do your job. Which, if you're just starting out, is to build your art career and your CV.
Writing any CV can seem like a daunting, time-consuming task. Having to sell yourself and your skillset to people who have likely never met you becomes a mammoth challenge for many. 
I advise that you take it in baby steps. Every day set a timer for 15 minutes and use that time to work on your artist CV.  You'll have it done in no time and it will be less painful.
Remember an artist's CV is much longer and more detailed than the traditional CV. You want to include all of your shows, commissions, partnerships, press mentions… everything related to your work and you as an artist.
I always advise artists to include every single little thing on their artist CVs. You can edit it according to who you're sharing it with. But always keep a Master Artist CV and continue to note everywhere your work has shown. 
I advise this because I don't want you to have to backtrack later and try to remember details you long forgot. Imagine if there was a retrospective of your work one day; all of these details would suddenly become very important. You keep a detailed artist CV because you want to plan for your success.
And studies show that the majority of artists who we remember after they passed, kept good records. So can you.
Know your reader
Before jumping right in and writing your art CV, consider who will be reading it and what they will be looking for. If your CV is 35 pages long (don't laugh, I've seen them) and you are applying to a gallery with a 10-page maximum, by all means, edit it down to 10 pages. But make sure that those 10 pages are relevant to them. 
Remember to write down every accomplishment you have as you achieve it. That way, you will be sure not to miss anything. 
Oh yeah, I talk big, but I forget to add to my CV all the time. I usually think of it every few months and go back through my calendar to spark my memory. It's amazing what we can forget when we're trying to write our art CV.
Summarize, do not elaborate 
Remember your art CV is a snapshot into your professional artistic life, a piece that contains all of your professional achievements in one document.  
Bear in mind what experiences the reader of your CV will be keeping an eye out for. Use headings to make your CV easier to understand, break down and read. The most frequent headings used in artist CVs that are often the most successful include: 
Personal details

: name, email address, and contact number.

Educational achievements

: school, colleges, universities, apprenticeships 

Professional development

: previous relevant job roles and any additional courses. 

References

if you've got them

Projects and commissions
Shows and exhibitions

 

Awards

 

Any relevant work experience
Remember that your art CV is not a biographical account of your life. It's a list that serves to present your skills, your experience, and your suitability for a role or opportunity. 
Add a personal statement
Often missed in the CVs of artists is a personal statement. This is your opportunity to stand out from other artists. Again be concise. Have something interesting to say about yourself as an artist or your work itself. 
If you're not sure what kind of statement to make, don't worry about it. It's just an opportunity to get an extra few seconds of attention from the reader.
Proofread!!!
Before submitting your art CV, proofread it. Get someone else to proofread it, and then proofread it again. Your CV must be to an exceptional standard, especially as an artist. It's important to always present yourself as a professional. An art CV with mistakes and typos sets a bad impression.
Wrapping Up
Now that you have my top tips you are ready to invest the time to create an exceptional CV. Be confident in yourself, your abilities, and your talents. When you believe in yourself, the world begins to believe you.
Learn how to approach to art-world decision makers, create revenue streams, and get paid more being who you are – an artist.
Join my list, it's FREE, and I'll share everything I know about working as an artist.