It's not about whether you succeed or fail as an artist. It's about the kind of person you become as you do the work.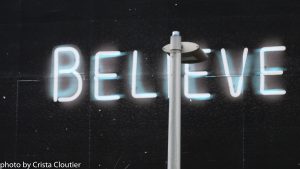 Does it make you feel more authentic? Are you coming from a place of integrity? Do you share generously? Are you grateful? And most importantly, are you actually making art, good art?
As you move closer to your goal, you will suffer setbacks and challenges. It is what it is.
And during those dark moments, ask yourself, "What do I believe in?" Because you can't do your best work when you come from a place of fear.
Believe in yourself.
And if you don't, then do what it takes to get there. Don't wait for someone else to believe in you first. You have to show them.
This is your work. Let nothing and no one stop you.
Watch this video for more inspiration and courage to believe in yourself:
Learn how to approach to art-world decision makers, create revenue streams, and get paid more being who you are – an artist.
Join my list, it's FREE, and I'll share everything I know about working as an artist.