I think that we can all agree that it's difficult to break into the art business.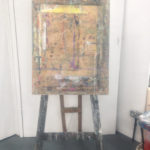 Emerging artists usually have little sales or exhibition experience and often struggle to find art gallery doors that will open.
In a recent interview with art superstar William Wegman, I asked him how he was able to get into an art gallery when he started out?
He said, "Other artists recommended me to their art galleries. I didn't really go around with my portfolio; that was kind of a sad sack situation and pretty much a dead-end. And if you want to be discouraged, just start doing that."
Exactly! Showing up at an art gallery unannounced and uninvited is a fast track to nowhere.
And so is sending out emails when no one asked to see them. Do you know what happens to unsolicited emails to galleries? Delete! Delete! Delete!
So, how can you begin working with a reputable art gallery?
The Do's and Don'ts of Finding Art Gallery Representation:  
Do your research.  See if the art gallery is a good match for your work and level of experience.
A gallery is not just a gallery. It represents someone's creative vision. Take the time to find out what an art gallery is dedicated to showing before you even think of submitting your work.
Gallerists are creative agents themselves. They have strong interests and aesthetics. Believing that your work is so important that it will change the course of the gallerist's focus is egotistical and even a little bit rude. Learn about them first.
Do develop a relationship with the art gallery.
As William Wegman suggested in the quote above, the primary way that art galleries choose artists is through relationships. That means that either someone introduced them to the artist's work or they met the artist first and then were introduced to the work.
If you've identified an art gallery that would be a good fit, develop a relationship with them. Go to their events. Sign up for their mailing list. Spend time on their website. Follow them on social media. Get known within their community as a supporter. This is the best way to get on a gallery's radar.
Don't approach an art gallery before finding out their submission policies.
Finding out an art gallery's submission policy is easy. Check their website and see if it's posted.
If it's not, call them – that's right pick up the telephone and ask. Or ask the gallerist while you're visiting — because you should try to visit the gallery in person.
If they say that they don't accept submissions, then you have your answer. Don't submit your work anyway.
If they do accept submissions, follow their guidelines to the letter.
Don't think of the art gallery's commission as something they're taking from you.  Instead view each sale as something they're giving to you.
Artists often complain to me about galleries taking 40, 50, even 60%. True, if you're paying that much you have a right to expect a lot in return.
But don't deny the art gallery their commission. They aren't taking anything from you. They are giving you a sale that you otherwise wouldn't have had.
Do be prepared to talk about your work.
I've asked many artists to tell me about their work over the years. The ones who mumble, "My work speaks for itself" are wrong. If it did, I wouldn't have asked.
Trust me, being reticent about your work is no way to get into an art gallery. But being interested enough in your own work to engage others is the best sales tool there is.
Do develop an audience before approaching an art gallery. 
Too many artists put this off saying that it's a gallery's job. It's not. It's your job to build and maintain your audience.
For example, having an engaged following on Facebook carries weight. It shows an art gallery that you understand how to promote yourself through art marketing.
And if you decide to opt out of the social media scene, then think about how you will engage your audience. Do you have a mailing list of people who have visited your studio and bought from you in the past? Start now!
These tips will help to open doors for you. I've seen it happen again and again. But it's your work that will seal the deal. Make sure that the work is ready, that you've honed your craft and are showing the best you can do.
It looks easy, but I know that it's difficult. Hang in there and DON'T QUIT.
Because this is how you DO get into an art gallery!
Would you like to SHOW + SELL MORE ART? I've helped thousands of artists and I can help you too.
Join now. It's free. No spam. Unsubscribe when you want.