I wanted to introduce a new voice today.
Eddie Davis
Eddie is the founder of ETCHster, an artist website platform. Eddie and I recently had a zoom conversation where we shared experiences as businesses who serve the art community.
Eddie told me about his background in tech and why he started ETCHster. He was so passionate about artist websites that I asked him to share information with you about how you can really maximize your site.
Understand that I'm not an affiliate of Etchster. I'm not making any money if you work with them. But I am a fan and I wanted to share this resource with you.
So now, without further ado, here's Eddie's advice about how to avoid the #1 Website Mistake
---
The #1 Website Mistake That Artists Make
Congratulations on your journey into digital marketing. If you're reading this, you likely either have recently launched or are about to launch your first website. There's a lot to learn!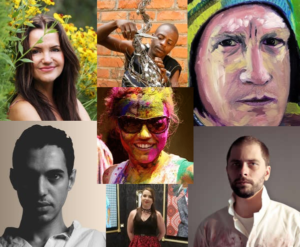 You might be thinking that this article is about some aspect of design, content or maybe even an IT mistake to be avoided.
You'll find great, free resources at The Working Artist to help you avoid the mistakes mentioned above, but they are not the #1 mistake.
As the provider of websites to thousands of artists spread across almost every country on earth, we find that the #1 mistake artists make is:
Thinking a freshly-minted website is an art business in a box.
It's a Business Tool, Not the Business
Those of us that witnessed the blossoming of the world wide web in the late 90s will recall that certain businesses that simply purchased great URLs (plants.com, etc.) had instantaneous traffic and sales (hint: there weren't thousands of other websites about plants).
Websites today don't work like they did in the 90s and have a completely separate business purpose from social media, where connecting with people you already know is easy.
Your website is a tool for helping you build relationships with strangers.
No Gravity in the Beginning
Planet earth is a massive object that passively keeps the moon orbiting us and constantly pulls asteroids into our atmosphere simply as a function of its size.
The equivalent of gravity for your website is called traffic and is typically measured in visits per hour, day, month, etc.
You won't have people asking you how to buy your work via your just-launched website until you have people visiting in the first place.
A Super-Powered Business Card
If your website isn't going to start making you sales, was it a mistake to create one?
No, there are all kinds of ways to increase your website's gravity and start making passive sales, but those take time.
In the meantime, you've got a phenomenal tool to convert someone who is momentarily interested in you into a fan and eventually a patron.
So how do you get your "super-powered business card" in other people's hands?
Link to it in your email signature
Drop links in your social media posts and comments
Register with your local business associations and art groups
Claim your free Google My Business account
Answer calls for artists with it
Print old-school, 50-word business cards that link to your new website and attend networking events
Simple actions in this phase can be really powerful. A single Tweet from a non-influencer account (less than 100 followers) linking to artist Alex Scott's website brought him 600 visitors over a single weekend.
The secret to this success was that the Tweet-viewers clicked over to his website, which showed them 50+ of his works in less than 2 seconds. They were so instantaneously impressed that they started a Twitter conversation, sharing their thoughts on his talent and encouraging even more people to visit his site.
Beyond the Business Card Phase
Once you get familiar with some more active ways of engaging with strangers via your website and tracking your traffic, there are many strategies to grow your website's gravity and start making passive sales.
If you need an artist website in the first place or would like more tips and tricks specific to digital marketing, spend some time with ETChster's Creator Resources. You'll find ETChster provides websites built specifically to complement your growing art business and help you avoid other common mistakes throughout your digital marketing journey.
ETChster websites require no technical skills to create nor manage, can be updated from a smartphone, automatically show you how your traffic is trending, and in general, are designed to complement your growing art business with minimal distraction.
About the Author: From a family of artists, Eddie Davis is a technologist and founder of ETChster, a platform that provides free and professional tools including websites and catalogs to artists and art collectors.
Would you like to SHOW + SELL MORE ART? I've helped thousands of artists and I can help you too.
Join now. It's free. No spam. Unsubscribe when you want.
Working in the international world of contemporary art, Crista Cloutier has spent her career selling art and marketing art to art galleries, museums and private collections. 
Using her professional experiences, Crista has created The Working Artist Masterclass, where she's developed a global reputation as an artist's coach. Crista can teach you how to be an artist; including how to sell your art, how to sell art online, how to sell photographs, how to price your art, how to succeed at art fairs, and even how to find your art style. 
Crista has worked with established, blue-chip artists to raise their profile and attract greater opportunities. And she's also helped thousands of emerging artists to build a professional art practice. To learn more, visit https://theworkingartist.com