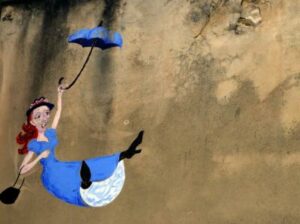 I was having was one of those days and life was bringing changes that tinted my spirits blue. I turned to the TV, hoping to escape my melancholy mood.
Mary Poppins. I never watch kids' films, but it was the only thing on, so I settled in with a sigh.
I had forgotten about Mary Poppins and how much I'd loved her. I was surprised to find I knew every song and remembered every word. I had forgotten that when I was a little girl, I wanted to be Mary Poppins.
I imagined that when I grew up I'd create a life where I would sing with birds and dance with trees. I'd have adventures and live my dreams.
"Real life's not like that," they all warned gravely, concerned for the future of this curious little girl. But I was intent.
Every time I saw a shooting star, I'd wish for those magical powers.  I poured a small fortune into wishing wells. And I spent so many years bent over in search of four-leaf clovers that I still suffer from back pain.
But as I watched Mary Poppins again after so many years, I became enchanted. And a miracle did transpire. I remembered who I was. I remembered that little girl who wanted to create a beautiful life, full of adventures and magic and delight.
And I realized that in a strange way, I am Mary Poppins. I have created that life. And that I don't have to feel blue when life brings change, I just need to take it with some sugar.
In many ways, Mary Poppins was like an artist, leaving everywhere she went more beautiful for her having been there. She never wasted a minute wishing things could be different, but focused on the magic of each moment. Mary Poppins reminded me that how I respond to change is a choice that I make. And that life is supercalifragilisticexpialidocious, if I will only believe.
Wind's in the east, mist coming in. Like something is brewing, about to begin…
Would you like to SHOW + SELL MORE ART? I've helped thousands of artists and I can help you too.
Join now. It's free. No spam. Unsubscribe when you want.