There's no denying that podcasts have become uber-popular over the last few years. Doesn't it seem like everyone's got one now? There's certainly no shortage of inspiring podcasts for artists.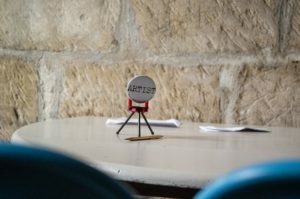 If you want to listen and feel inspired while you paint, there's a podcast for that. If you're looking for practical tips on how to sell your art, there's a podcast for that too!
I've put together this list of podcasts for artists that cover a wide range of topics related to art and culture. So if you'd like some fresh ideas on marketing your art, selling your photographs online or if you simply want to learn how to be an artist, there's a podcast on this list for you. 
Not everything I'm going to suggest will appeal, but if you stay with me and stay curious, I think you might just find a few shows that really speak to you. I know that I have.
Best Podcasts for Marketing your Art
This podcast covers a broad range of topics on the art market. Each episode features an inspiring interview with a leader or innovator in the global art market. From marketing your art online to figuring out how to price your art, there's a lot of fresh ideas and insights to be discovered in this podcast. 
You'll find loads of inspiration for selling your art online or marketing your art in this podcast for artists! Host Alyson Stanfield covers a broad range of art business topics, teaching you how to be an artist and how to price your art strategically. 
Formerly known as 'The Creative Insurgence', the main aim of this podcast for artists is to dispel the myth that artists are poor. If you're looking to get inspired and recommit to your art career and become a professional artist, this is the podcast for you.   
While this podcast is currently on hiatus, there's a wealth of inspiration here for new ways to market your art, pricing art and other tips for selling art online. 
The name says it all really! This podcast teaches you how to sell art online and generate consistent sales each and every month. There are quite a few episodes on marketing your art on social media too if that's something you're interested in learning more about. 
Dave Conrey has had a long-standing podcast for artists about creative conversations and it's still going strong! This episode on the new creative economy and how it's hurting artists was really thought-provoking.
This episode was about Dave's thoughts after agreeing to do an art show at the last minute and pulling it together in record time.  The premise made me laugh but the episode itself had a lot of valuable takeaway around marketing your art.
Back in the more traditional podcast vein, Liron's Art and Creativity Show is a series of quick podcasts from an artist out of Tel Aviv.
A few of the episodes I liked include How Long to Get Good in Art as well as The Future of Art: Augmented Reality and Virtual Reality, and How To Sell Your Art
Best Podcasts for Creative Inspiration 
The tagline for this podcast for artists is 'Everything you wanted to know about modern and contemporary art but were too afraid to ask'. Hosted by the hilarious Abby Jacobson from TV show Broad City, this podcast covers everything from pop art to performance art and everything in between. 
Inspired by the gossip in art history books, the Art For Your Ears podcast gets the inside scoop on contemporary artists. The stories are hilarious, and the episodes are just long enough to enjoy with your morning coffee. With over 200 episodes recorded, you're sure to find some creative inspiration with this artist podcast! 
This show is advertised as the artist podcast that pushes you to pursue your creative passion. There are hundreds of episodes to choose from and from what I've heard so far, they all have value.
Two of my favorites include "Name Your Monster"with guest Jeff Wright. Even though Jeff isn't a traditional artist, his story is fascinating and holds a lot of wisdom for all creatives.
Jeff was a history teacher who suffered a brain injury and was no longer able to continue doing the work he loved – until he found a creative way to change his story from tragedy to success. If you've ever faced a challenge that you felt might define you in a way you weren't comfortable with, this episode will speak to you.
Give episode #332 a listen as well. "Guard Your Attention" with guest Daniel Robinson was full of wisdom for creative people serious about their craft.
Daniel is a screenwriter but again, all artists share the same hurdles on this journey so it doesn't matter the medium, there is wisdom to be shared. In this episode, Daniel reveals his own long struggle to success and how he overcame his demons along the way.
This show advertises itself as "Picking up where the art degree ends." This long-running show (now over 500 episodes to choose from!) mainly focuses on artists who work in ceramics but I found a lot here to listen to.
I recommend you start with this episode titled "Building A Brand: An Interview with Bhairavi Naik." It might give you some fresh ideas around marketing your art.
Art and Faith Conversations is a podcast that's aimed primarily at Christians but it doesn't stop there. The conversations are intelligent, wide-wide ranging and inclusive.
The host asks wonderful questions and even the introduction to the series piqued my interest: "A podcast for the spiritually curious to explore our human and spiritual identity through the integration of art and faith. Discover how we are innately designed to be creative and to find deeper meaning in life through artistic expression."
A few of the episodes that I recommend include this interview with painter Natalie Salminen Rude, who brings haiku poetry into her work.
And this episode with artist Chris Soal was an interesting example of following where our work takes us. I was super-curious to learn more about Chris and his sculptures after listening to him speak.
Best Podcasts for Art History 
This artist podcast discusses some of the most interesting stories in art history. The hosts discuss rumors that have followed famous artists throughout their lives and deliberate about how much truth there was to the stories that we've been told. Host Jennifer Dasal takes listeners deep into the fascinating world of art. You'll definitely find yourself googling for more information after listening to this podcast for artists!
Host Janina Ramirez delivers unique insights into the world of art history in her podcast for artists, Art Detective. Each episode examines a different work of art, exploring what inspired the artist and what may have influenced them to create their piece. Riveting stuff! 
You will either love or hate this completely irreverent show. It's hosted by two sisters who claim they "feel dead inside" so each week they explore a different work of art to test if it makes them feel more alive.
The first episode is titled "Gauguin Is A Bad Bad Nasty Bad Man," and it includes their List of Grievances toward the Impressionist artist.
It doesn't really matter if you agree with their conclusions or not, this show is hilarious and thought-provoking and completely authentic and original.
If you're an art history geek like me, you might enjoy The Modern Art Notes Podcast. I love listening to smart people get together and go deep into an artist's work.
There's so much here to choose from! My favorites episodes include the fascinating survey of 19th century photographer Carleton Watkins and this interview with one of my favorite painters, the incredible Wayne Thiebaud.
These are my favorite podcasts for artists! I hope that you find something here that you really enjoy. Get inspired, get creative and most importantly, get to work selling your art!
Would you like to SHOW + SELL MORE ART? I've helped thousands of artists and I can help you too.
Join now. It's free. No spam. Unsubscribe when you want.
Working in the international world of contemporary art, Crista Cloutier has spent her career selling art and marketing art to art galleries, museums and private collections. 
Using her professional experiences, Crista has created The Working Artist Masterclass, where she's developed a global reputation as an artist's coach. Crista can teach you how to be an artist; including how to sell your art, how to sell art online, how to sell photographs, how to price your art, how to succeed at art fairs, and even how to find your art style. 
Crista has worked with established, blue-chip artists to raise their profile and attract greater opportunities. And she's also helped thousands of emerging artists to build a professional art practice. To learn more, visit https://theworkingartist.com