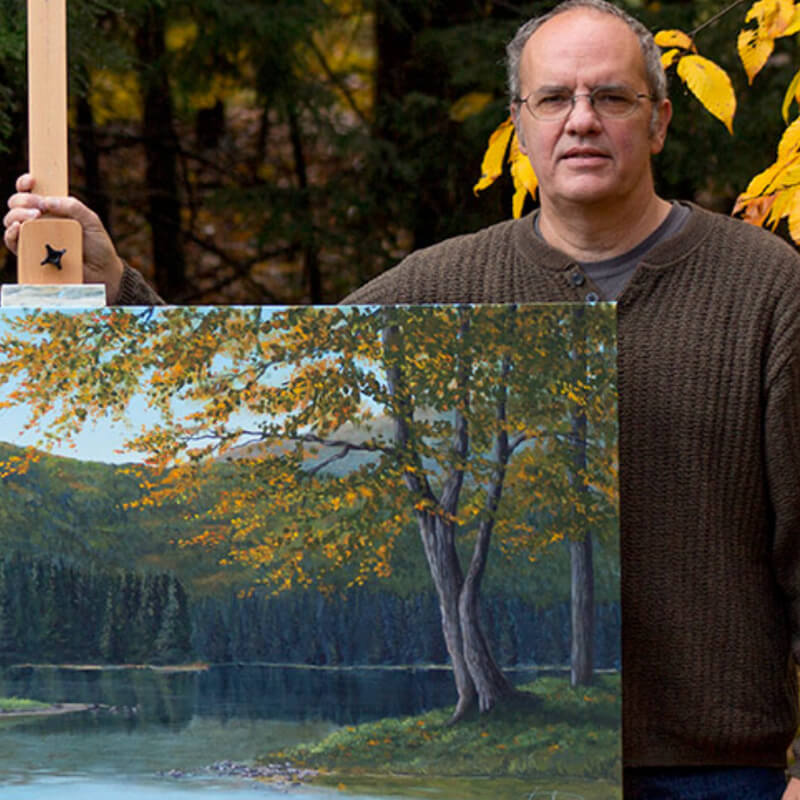 In a world that often thinks being an artist is not a responsible thing to do, The Working Artist course gave me the 'permission' and the confidence to pursue being a full time artist. – Tom Waters
Prior to finding The Working Artist, Vermont-based Tom Waters described himself as a frustrated graphic designer and a "Sunday painter" who channeled art as an escape from everyday pressures. "I'd taken up painting landscapes late in life to flirt with a dream held long ago. I was afraid of taking it seriously. I kept listening to all those voices that said being an artist wasn't a real option."
Tom certainly had his hesitations. Would this be another online class more focused on upselling additional programs? Could the content actually help him constructively make the transition toward professional artist?
Ultimately, he admits that it was Crista's personal story that compelled him. "Sometimes you question how deep someone's experience is for teaching a course. This class gave me the sense that finally, I had permission to pursue this from someone who has truly been there."
One year later, Tom markets himself through his website, through Facebook and Youtube. He now has over 1300 subscribers to his Youtube channel, with over 135,000 views, an exploding network of Facebook followers, and he's expanding his mailing list.
The two biggest Working Artist take-aways for Tom include Crista's constant encouragement. "She makes me feel like the most important person in her world during the class," he mused.
He also remarked on how well thought-out the coursework is designed. "Regardless of which way you learn, Crista has anticipated and included all modes of assimilating knowledge into the course. This includes plenty of deadline-driven material, which gave me some much needed structure."
After taking the course, Tom was able to overcome his obstacles—both real and in his head—to move from practicing art as a hobby to working as a professional artist.
In addition to seeking out a painting mentor, building his Working Artist Kit, crafting a 10-year business plan and entering a myriad of juried & group shows, Tom also started working in a prestigious Vermont gallery, where he was quickly promoted to Gallery Manager.
Best of all, Tom has doubled his sales in the year after completing the course and began winning several awards for his work. He'll have his first solo show at the Gruppe Gallery in Jericho, Vermont in fall 2017.
"Literally, every time I am faced with what would normally be an obstacle to moving forward as an artist, I hear Crista's voice, in that confident, reassuring manner, telling me to 'Jump.' It is the most tangible example of how taking her course continues to propel me forward. I went from being someone who was never ready to someone who now can 'Jump' every time there's an opportunity."
To see Tom's work, visit his website at www.creativewatersart.com
Do you want to learn more? Join my mailing list and watch your in-box for artist resources and inspiring stories.