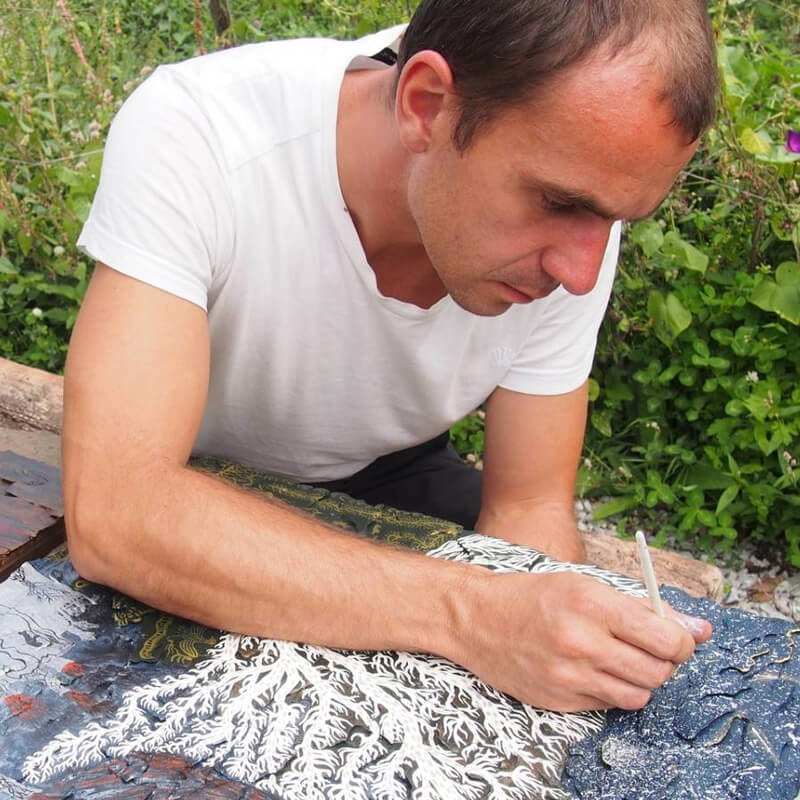 I learned to do the work without expecting anything in return, and to concentrate on the things that I can do now and in the near future. This is how I made the "Jump" with The Working Artist. If one is doing the job, it will pay off soon. It's hard work, but it does work!   ~ Tsvetomir IIiev, Artist.
Tsvetomir Iliev is a young self-taught artist from Bulgaria who ventured down the creative path by chance six years ago.
It all started when he was drawn to collect tiny pieces of fallen tree bark in the forests near his home. From that moment, Tsvetomir began experimenting with the bark's rich, thick textures as the unlikely surface for his acrylic paintings.
This exploration of such an unusual painting surface gave rise to organic, nearly three-dimensional rippling landscapes, undulating seascapes and a feast of visual journeys with outstretched trees, pulsing moonlight and curling hills.
As Tsvetomir's amassment of paintings on tree bark grew, so did his curiosity about the business side of art.
His first steps included visiting galleries in Bulgaria and abroad, as well as looking for information on-line. That's when he discovered The Working Artist. "The information available left me without any hesitation," Tsvetomir explained. "I was immediately compelled to try it and see what could happen."
Initially, the course helped Tsvetomir better communicate about his art and organize his time. He also learned how to work through things that he didn't necessarily enjoy doing, such as social media.
But after pushing himself, he realized that social media is likely one of the best available tools for an emerging artist such as himself.
Tsvetomir was eventually given a solo show in the Bulgarian town of Veliko Tarnovo. He took Crista's lessons to heart: he practiced his presentation, prepared food & drinks, and even planned a give-away gift, but, still, nothing sold at the show.
"I continued with my efforts. I also decided to retake The Working Artist course again to go even deeper into what I'd already learned. That's when I began to sell my work and attract my first true fans."
Since then, Tsvetomir has been very busy.
More than seven artworks have sold, two more are reserved and one of his paintings was awarded Honorable Mention in an on-line contest.
Media accolades are rolling in and he recently made his first website sale too. Exhibition invitations and art fair opportunities are also on the rise, including participation in two upcoming Bulgarian fairs in August and September. And Tsvetomir's work recently made second-round of judging for the prestigious Summer Exhibition at London's Royal Academy of Arts.
And this is just the beginning. More opportunities are sure to be on the horizon as Tsvetomir continues to grow as an artist and do the work.
But see for yourself! Learn more about Tsvetomir Iliev and his work at http://www.barkflower.net
And to join my mailing list to receive weekly emails full of inspiration and artist resources, sign up here!