Adam Cook is an emerging artist in Beaumont, TX. He drew constantly as a child, but at age ten picked up a guitar and for the next several years, art took a backseat to music. In 2013, however, he had an urge to "pick up a brush and make a mark" and soon turned to painting full time.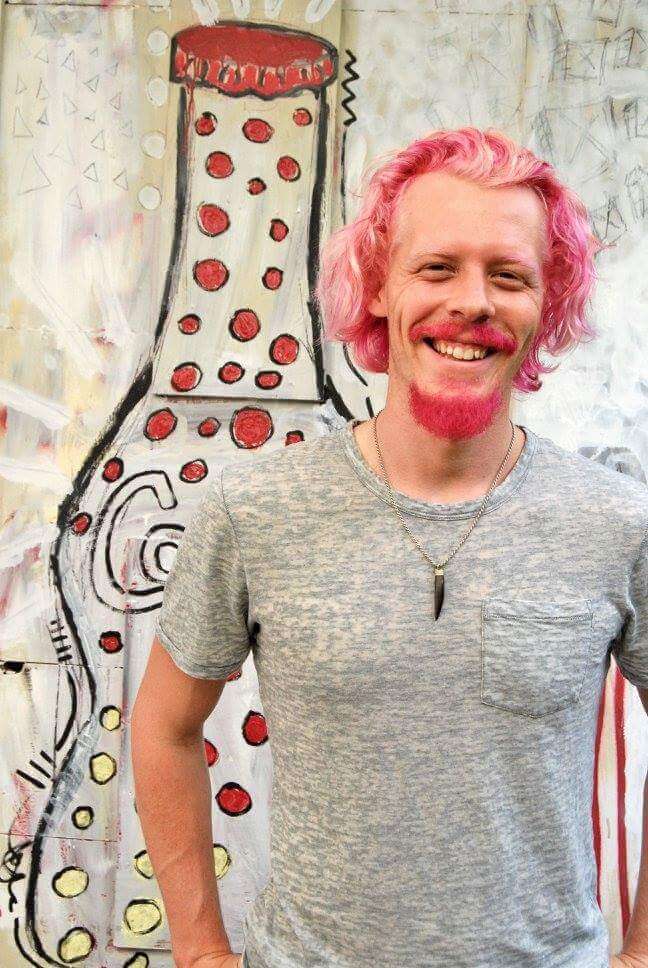 His girlfriend calls him an "art machine" because he's always producing, but Adam knew he needed to learn the business side of art. He didn't just want to make art, he wanted to sell his art.  He admires Jean-Michel Basquiat's work and his ability to sell his work. "He had a million bucks by the time he was twenty-six, I better get on it. I want to make a living doing this."
About The Working Artist,  Adam says, "Selling art is so big and exciting for me. I latched onto everything Crista said. It's like I was given the tools I needed at the right time."
He knew it was important to nurture his relationships with the people who were interested in buying his work. "The Working Artist really helped me to have the right tools to be courteous, to be personable, and to take care of those relationships."
He's also benefitted from the time management focus he learned in The Working Artist.  "One thing I've definitely changed is my time management. It may be a no-brainer, but I got a calendar and a planner and started writing things down. It's helped me keep on top of myself. I don't want to miss a deadline on a commission. It's just crucial, crucial, crucial."
Whereas before he just worked and worked with no direction, with the knowledge he gained from taking The Working Artist he's now able to take more control of his brand, to organize his time and meet deadlines, and stay on top of his obligations to the people buying his work.
"I have to take care of my clients," says Adam. "I'm not just an art machine, I enjoy getting to know my collectors and that whole experience is part of my brand. I am my brand."
He's busier than ever both making and selling his work, using his website and social meda to reach customers, as well as local arts shows in Texas. Next up, he and his artist girlfriend will be hosting an Open Studio event, complete with special invitations, a chef and a V.I.P. reception. "We're really making it an experience for people."
The Working Artist gave this emerging artist the tools he needed to make the leap to being a full-time artist. "This is what I solely do now."
Learn more about Adam Cook and his work here http://www.adamcookartist.com/
And to learn more about how I work with working artists, join my mailing list!