I drove to the Mediterranean Sea to look at the water.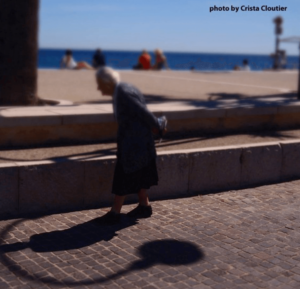 I drove to the Mediterranean Sea to dream.
Instead, I saw her.
Bent over from age, she moved ever so slowly placing one foot in front of the other. She seemed confused, frightened.
I asked, "May I help you?"
She smiled sweetly, "Non. Merci, mademoiselle."
In her gnarled hand, she held a single red rose. In her gnarled mouth she held only a few dark teeth.
She stopped at a bench. I sat behind her. In front of the blue expanse of water and sky, we each became lost in our thoughts.
Until she bowed her head in her hands and began to cry.
I dared not reach out. Instead, I sat in silent witness to her tears, sending compassion for her despair.
The truth is, I was feeling sad too.
Her sobs spoke to me, urging that I let go of my own sadness, anger and regrets. "Do not let your story end like mine," they seemed to say.
And suddenly, I knew why I had really come to the seaside.
Because I'd been looking at what was behind me for so long, haunted by broken dreams. And I'd been looking ahead, broken hearted by a future that threatened to deliver more pain.
In the abyss between the past and the future, I'd forgotten how to see the beautiful blue horizon of the moment right in front of me.
"Be here now," the mystics say. But I have been everywhere else.
So I breathed in the fresh air as I asked the sea my questions. And I waited to hear its answers.
I heard seagulls sing. I heard waves roll. I heard children laughing.
And I listened an old woman weep as she clutched a single red rose.
I waited quietly until she left. She shuffled slowly, stopping to turn back and look at the sea one last time.
At that moment, I knew that I'd been asking the wrong questions. The answers I was seeking were not about "what." What should I do? What will happen?
The answers I was seeking were "how."
So now I ask you the same question that the sea demanded of me:
How do you wish to live this beautiful life?
Would you like to SHOW + SELL MORE ART? I've helped thousands of artists and I can help you too.
Join now. It's free. No spam. Unsubscribe when you want. 
Working in the international world of contemporary art, Crista Cloutier has spent her career selling art and marketing art to art galleries, museums and private collections. 
Using her professional experiences, Crista has created The Working Artist Masterclass, where she's developed a global reputation as an artist's coach. Crista can teach you how to be an artist; including how to sell your art, how to sell art online, how to sell photographs, how to price your art, how to succeed at art fairs, and even how to find your art style. 
Crista has worked with established, blue-chip artists to raise their profile and attract greater opportunities. And she's also helped thousands of emerging artists to build a professional art practice. To learn more, visit https://theworkingartist.com