I found myself at a crossroads when I was eighteen years old.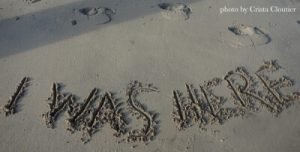 I'd grown up in a family where science and mathematics made proper courses of study for university. But my behavior gave my family reason to pause. We didn't have the vocabulary to understand what was wrong with me, why I was different.
I wrote poetry, took pictures with the camera tilted at a jaunty angle, and added purple food-coloring to the mashed potatoes at dinnertime.
The word "creative" was not part of my family's lexicon – but the word "strange" was.
"What will become of her?" they nervously asked one another. I wondered that myself.
Unable to envision a career path that didn't reduce me to tears, I would put off university for several years. Instead of focusing on what I would do for a living, I decided to think about the experiences I wanted to have. What did I want my life to be about?
Adventure and beauty became my calling. And this search would eventually lead me to college, to study art. I just took my own way of getting there.
Is your life's journey a true expression of your self?
Many people don't realize that we create our own lives. Instead of color, texture and line, we use our choices to paint life's canvas.
Choice. The word is deceptively simple.
But if, like me, life has sometimes found you putting your fate in a tossed coin, you know that making decisions can be difficult, especially if one is creative. Our interests are usually a little wider, our dreams a little larger, thus the risks a little greater.
And putting off decisions is a long-cherished pastime of creatives. We would much prefer to continue mulling the possibilities, perhaps begin a new project, or even watch paint dry — literally.
This is where courage is called upon.
Our creativity is the most authentic part of us. So why do we often let our fears dictate our decisions? Why not trust our creativity to lead us? This doesn't mean that you're at the whim of some vague, artsy-fartsy fancy, it means you're living with authenticity.
Ask yourself, "What do I really, really want?" Then engage with your creativity and listen to where the work takes you.
If you find yourself hesitating to make an important decision, remember poet Rainer Maria Rilke's words, "Be patient toward all that is unsolved in your heart and try to love the questions themselves."
Choosing to love the questions instead of scrambling for answers begins a journey toward real creativity.
And though it's scary as hell to take the road less traveled, it's this journey that will bring you more adventure and more beauty than you ever dared imagine.
Every moment holds the promise of being a defining one.
It's your choice.
Working in the international world of contemporary art, Crista Cloutier has spent her career selling art and marketing art to art galleries, museums and private collections. 
Using her professional experiences, Crista has created The Working Artist Masterclass, where she's developed a global reputation as an artist's coach. Crista can teach you how to be an artist; including how to sell your art, how to sell art online, how to sell photographs, how to price your art, how to succeed at art fairs, and even how to find your art style. 
Crista has worked with established, blue-chip artists to raise their profile and attract greater opportunities. And she's also helped thousands of emerging artists to build a professional art practice. To learn more, visit https://theworkingartist.com