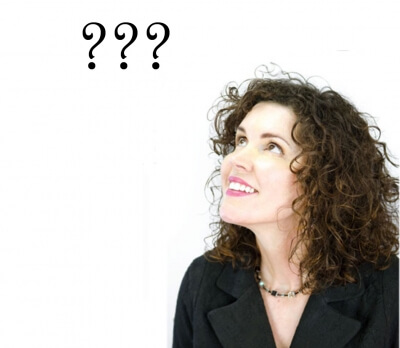 As artists, we're constantly questioning ourselves. And questions are good things, it's important to ask questions.
But are you asking the right ones?
It's easy to get caught up in questions such as:
Am I good enough?
Does anyone like my stuff?
Do I have what it takes to succeed?
Am I too old? (or too young, or too thin, or too fat, or too poor…)
These kinds of questions aren't helpful because they're disempowering.
I challenge you to begin asking better questions. Because the better the question, the more useful the answer.
Here are some questions that every artist should be asking.
Who?
That's the best question to begin with. Ask yourself, as an artist, who am I?
You see, I believe that the artist's life is all about answering that question. Your work is where you document your progress as you get closer to the answer.
Who are you as an artist?
What? 
What is it that you want to accomplish? If you're like me, you probably have 100 answers to that question.
But sometimes when we have too many answers, that question never gets answered.
If you were to focus on what you want to do next, what makes the most sense as a next step for your practice, how would you answer that question?
What is it that you want to accomplish? What are you working toward?
Where? 
Where do you want to go? When you dream your dreams, where do you see yourself taking your work?
Are you going there now?
Are you at least pointing in the right direction?
Is it time to pull out the map again?
When?
Now.
That's the only answer to this question.
No, it's not too late. It's never too late.
So you tell me that you're even older than the famed Grandma Moses? Then beat her record for being the world's oldest artist and you will have your own Unique Selling Proposition.
But seriously, if not now, when?
Why?  
"Why" is one of the most important questions an artist can ask. Ask it often.
Why is my art important to me?
Why do I feel compelled to create?
Why should people care about my work?
And I've said it before: I don't care if your art is about craft, post-modern theory, politics, flowers, pet portraits or landscapes; just as long as you're engaged with meaningful work.
What matters is that you're trying to make the world a better place for you having been here.
And now you're asking, How?
Baby steps. That's how.
You are either on the journey or you're not.
If you commit to baby steps, you're always moving forward, you're always engaged, you're moving closer to your goal. That's all that matters.
Never stop asking questions.
Because it's questions that will lead you toward your answers.
Would you like to SHOW + SELL MORE ART? I've helped thousands of artists and I can help you too.
Join now. It's free. No spam. Unsubscribe when you want.
Working in the international world of contemporary art, Crista Cloutier has spent her career selling art and marketing art to art galleries, museums and private collections. 
Using her professional experiences, Crista has created The Working Artist Masterclass, where she's developed a global reputation as an artist's coach. Crista can teach you how to be an artist; including how to sell your art, how to sell art online, how to sell photographs, how to price your art, how to succeed at art fairs, and even how to find your art style. 
Crista has worked with established, blue-chip artists to raise their profile and attract greater opportunities. And she's also helped thousands of emerging artists to build a professional art practice. To learn more, visit https://theworkingartist.com