I'm about to go on a new adventure and I'm inviting you to join me.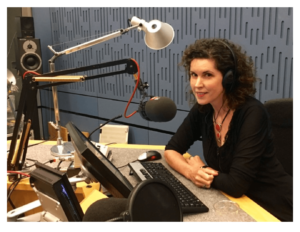 Here's the backstory:
Last year, a British publisher invited me to write a book for artists. I put my heart and soul into that book but when I submitted it, the publisher said "No, thank you."
As you can imagine, I was mortified. I felt ashamed, and put the book away as I stockpiled ice cream and crawled into a hole to hide.
Have you ever had your work rejected? It sucks, doesn't it?
But I've learned that rejection doesn't always mean that your work is bad. Sometimes these things happen to point us in a new direction or toward a different audience.
A few months ago, a friend read my manuscript and told me, "This is the most important thing you've ever written for artists. I can understand why it was rejected though because it's not a book, Crista. You've written a podcast."
That small piece of feedback has changed the course of my work. Since that day, I've been focused on producing my manuscript as a podcast.
And I'm so excited to share it with you.
The Working Artist: A Step-by-Step Guide from Feather to Wings will be different from other podcasts. I'm creating a ten-week program to move artists toward clarity and professionalism. I can't wait for you to hear it.
It's not ready yet! But as I finish putting this project together, I've been learning everything I can about podcasts for artists.
I want to share what I'm learning with you.
Over the next few weeks, I'll be sending links to some of the podcasts I'm listening to, stuff you might be interested in too.
Let's make this a conversation. Send me links to your favorite shows. Tell me what you're listening to.
If you don't yet listen to podcasts, consider this an introduction to the genre before I invite you to join my show.
Thank you for starting this new adventure with me!
Here's what I've been listening to this week:
1. PleinAir Podcast is hosted by Eric Rhoads, publisher of Plein Air Magazine. In this program, he interviews artists who paint outdoors. He also ends each episode with a helpful Marketing Minute, answering audience questions.
I'm not an outdoor painter but I was interested in this episode on How Plein Air Painting Influences the Movie Industry.
Also, this interview with my friend Joe Gyurcsak was excellent. Joe's more than a successful artist, he's a teacher and for years has been the Resident Artist for Blick/Utrecht Art Supplies. He gives some wonderful advice here about approaching galleries and building a body of work.
2. I was thrilled to discover another interview with Joe Gyurcsak on Antrese Wood's podcast The Savvy Painter. In this episode, Joe goes even deeper into his own story and shares advice about mentors, the creative process and much more. It's a great one.
Another artist I know, Maggie Siner, also gave an interview and her story, as well as her relationship with her own work, will truly inspire you. The art world is a small world!
And you might also want to check out this episode about defining success. How do you define success as an artist?
3. Brooks Jensen, publisher of the beautiful Lenswork Magazine, produces a daily podcast with each episode lasting about ten minutes. Though this show is aimed primarily at photographers, I think we can all find benefit from his episodes on How to Title a Project and also How to Receive a Review. Check them out.
4. Beats and Measures is a cool new podcast that I'm really excited about. If you like music as much as I do, or stories as much as I do, you'll enjoy this episode with stories about the buskers of San Francisco.
Join my mailing list to be the first to know when my own podcast is released!