Rochelle Johnson grabs her inspiration from life. Specializing in oils, she brings vibrancy to paintings that communicate the human experience. 
Rochelle's artist journey began like so many artists: at school.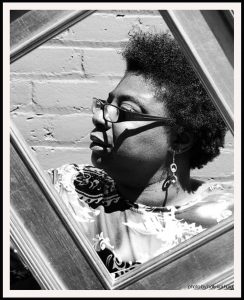 "I started off drawing by looking at images in magazines for inspiration. I never really considered myself an artist. But I took art all through school and that was a great learning experience for me."
However when it was time to go to college, she put her art to the side. Though she yearned to continue making art, her family didn't want her to follow that path. 
"I went to college and studied computer science. My parents didn't want me to pursue art as a major, so I compromised and picked something where computers and creativity were involved. I put my art on hold. But eventually, I decided that computer science wasn't for me."  
Realising Computer Science wasn't what her heart wanted, Rochelle eventually returned to college again but this time to become an artist.
"Enrolling in art and design was scary because I was going against my parents' wishes and that's when my financial support ended. So I had to figure it out on my own. I realised I was going to have to work and go to school at the same time.
So it was very scary, and I was very unsure what the future held for me. But I had to follow my heart."  
Rochelle worked two jobs for a long time before she could devote herself to being a full time artist. 
"I had a full time office job and was trying to land freelancing work as an illustrator at the same time. So working two jobs to support my art habit was something I just did. It didn't dawn on me until much later how stretched and exhausted I was. 
I would cry a lot because I was doing something that I knew I didn't want to do. I would rather be at home painting, but I had to pay my bills." 
After years of dedicated time and effort, Rochelle decided to take the leap and go full time as an artist. 
"I had saved up some money and decided to try being an artist full time. Working on your art full time is something an artist really needs. You need time to think and formalize your projects. 
I decided that if I had to go back to work to pay my bills then I would, but only on a part-time basis. Because I could see the benefits of having more time in my schedule to work on my art."  
I asked Rochelle what advice she would give to budding artists looking to create a full time art career. 
"I would say put yourself on a schedule. I found it was easier when I was working to put myself on a schedule. But once you go full-time, a schedule is a must. When you work from home it's easy to become distracted by housework and other errands. But if you have a schedule you can define your time in a different way and become more productive. 
Learn all you can learn too. If you want to take art classes or workshops or if you just want to teach yourself, that's fine. But always try to continue to learn. Sometimes I get caught in the trap of thinking I know it all, but I don't. There's always something new to learn."
Rochelle knew something was missing from her own art education, and so decided to take The Working Artist Masterclass. 
"I felt like The Working Artist was something I needed to do. I needed to get information about how the art world works because I was going around in circles. 
I knew I had to learn the art business if I wanted to venture out into that world. And I had no idea what that was all about. People think that you can just go to a gallery and show your artwork to the people there but it doesn't work like that. You can't just go knocking on gallery doors with your portfolio."  
Today Rochelle Johnson is a working artist. 
"These days I set time aside to work on my craft, to work on my art business, to build relationships with people and of course take some time just to feed my soul. When I create, I feel like I am communicating with the Creator."
A huge thanks to Working Artist Alumni Rochelle Johnson for sharing her story. If you'd like to see Rochelle's captivating work, visit her website at rochellejohnsonstudio.com
Learn how to approach to art-world decision makers, create revenue streams, and get paid more being who you are – an artist.  Join my list, it's FREE, and I'll share everything I know about working as an artist.
Working in the international world of contemporary art, Crista Cloutier has spent her career selling art and marketing art to art galleries, museums and private collections. 
Using her professional experiences, Crista has created The Working Artist Masterclass, where she's developed a global reputation as an artist's coach. Crista can teach you how to be an artist; including how to sell your art, how to sell art online, how to sell photographs, how to price your art, how to succeed at art fairs, and even how to find your art style. 
Crista has worked with established, blue-chip artists to raise their profile and attract greater opportunities. And she's also helped thousands of emerging artists to build a professional art practice. To learn more, visit https://theworkingartist.com