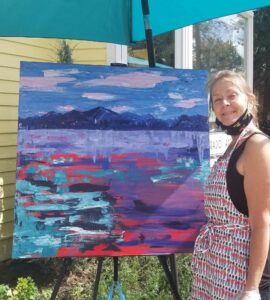 Kim Roberts wasn't always an artist, at least not in the professional sense. A self-described "closet artist" she thought of her art as more of a creative hobby, and not something she considered in terms of a career. 
"I had been a 'closet artist' for around 20 years. I never took it seriously, but I started keeping a journal where I would do little drawings and stuff. Then I moved to Paris where the world did a big switch on me and I ended up teaching ashtanga yoga.
But I would come home in the evenings and get out all of my paints and just start painting. 
I don't know why it happened in Paris? I think I got inspired because I was going to galleries and museums all the time. 
Later, I lived in India for a couple of years. I continued painting there and people began to encourage me. I used to have shows in my house in India.
So art's always been a part of my world. But I felt like I had to explore the realms of consciousness before I had the freedom to express it." 
Kim trained as a psychotherapist, but she taught yoga and ran healing retreats all over the world for more than 25 years. Just before her 50th birthday, her life in Thailand fell apart and Kim unexpectedly found herself back in the US and unsure of what she was going to do next.
She had heard about someone in town who taught encaustic wax art. Her curiosity was piqued so she decided to take the class. 
And it was there that her soul spoke clearly to her. 
"At the end of the class the teacher looked at me and said, 'I don't know you or what your story is, but it seems to me you need to drop whatever else you are doing and paint.' and I just started crying because I knew it was true. So I started making art … and perhaps it was beginner's luck but I started selling my work and getting into galleries. It just started happening from there." 
As Kim's art business developed, she realized she needed help as she began to navigate the art world. That's when she discovered The Working Artist Masterclass. 
"I found Crista right at the beginning of my journey, so she was really an integral step on my path. I didn't know how to make an artist statement. I didn't know how to show my work or present my work or how to talk to people about my work. I didn't know anything!"
Since taking The Working Artist, things have progressed significantly for Kim's career as an artist. She now works with four different galleries and is getting into good group shows on a regular basis.
"I'm now in a completely different phase of my career, and I have so much more confidence about my work. I know how to talk about it. It's always going to be a work in progress and I always have room to grow, but I feel I have established my style and themes. I feel like I'm no longer an emerging artist. I'm a mid-career artist."
So what advice does she have for artists who are just starting out? 
"I find that a lot of emerging artists don't seem to have confidence in communicating about their work. Take the time to learn about the practical things like how to write an email and how to follow directions so you don't get automatically rejected from a show. 
Find resources, find people like Crista who can share some of the basics."
Want to check out Kim's work? Click this link.
Helping artists with their careers is what I do best. If you'd like to receive exclusive offers about my courses sign up for my mailing list now! 
Working in the international world of contemporary art, Crista Cloutier has spent her career selling art and marketing art to art galleries, museums and private collections. 
Using her professional experiences, Crista has created The Working Artist Masterclass, where she's developed a global reputation as an artist's coach. Crista can teach you how to be an artist; including how to sell your art, how to sell art online, how to sell photographs, how to price your art, how to succeed at art fairs, and even how to find your art style. 
Crista has worked with established, blue-chip artists to raise their profile and attract greater opportunities. And she's also helped thousands of emerging artists to build a professional art practice. To learn more, visit https://theworkingartist.com