Investing time and money into a course for artists is a great way to build your knowledge, expand your skill set, and develop confidence. And artist masterclasses, courses and programs are invaluable to artists at all stages of their careers. But how do you decide which artist course is right for you?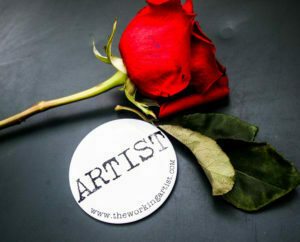 You may already know that my own course, The Working Artist Masterclass, is a comprehensive program for artists who want to build a career in art. But how is it different from other online programs? And how can you decide if The Working Artist, or any other program for that matter, is right for you and where you're at in your career?
Today I want to share some guidance on how to discern if an online artist course is right for you. I'll be highlighting what makes The Working Artist Masterclass different from other programs, but you can apply this information to any course you might be considering.
What Do You Want to Get Out of the Program?
The first question you need to ask yourself is, "What outcomes am I seeking from an artist course?"
• Do you want to learn the fundamentals of running a business as an artist?
• Or to develop specific art skills?
• Do you want to learn how to network more effectively?
• Or are you looking for feedback on your artwork?
The Working Artist Masterclass teaches you:
• How to build your career as an artist, so that you can get more of your work seen and sold.
• It will show you how to develop your art career with clarity and confidence.
• You will leave with elegant marketing materials and feel ready to build an audience of raving fans.
What The Working Artist Masterclass won't teach you is how to paint, draw, photograph or sculpt. This artist course won't teach you how to create your work, but it will teach you how to best share your creations to the world. If that's something you're looking for support with, The Working Artist Masterclass may be the right choice for you.
Consider the Source
The next thing to look at before investing your money in a course for artists is the credentials of the person teaching the curriculum.
These days, anyone can sit down in front of a camera, record some videos, call it an art business course and charge a hefty fee. Believe me, I hear horror stories every day. That's why it's important to look beyond the hype and consider how qualified that person really is to be teaching you about your artist career.
Have they achieved the results you're looking to achieve? Are they familiar with all the different art markets? Have they spent a long career in the field, learning the ins and outs of the industry? If not, be wary.
As for myself, my professional experience is 360 degrees. Not only am I an artist myself, but I've represented well over 250 international artists and placed their work in hundreds of galleries and nearly every major institution in the USA. And as an instructor, I've helped artists in over 80 countries also achieve success.
No other artist coach claims the same credentials as I've earned during my long career. I believe in walking my talk, and I encourage you to do your due diligence and research your instructor before handing over your hard-earned money.
Look at the Course Curriculum
Once you've found an instructor you resonate with and you've determined what you're wanting to achieve with an artist course, the next step is to study the course curriculum.
• What topics and subjects will the course for artists cover?
• Is this information you are confident that you know already?
• Or is it all brand new to you?
• If you are familiar with the topics, do you think you would benefit from a refresh of the fundamentals and a new perspective?
The art world is changing rapidly, you know. What worked before the pandemic, may not work anymore. Where are you getting stuck, and will this course help you to move forward?
Answering these questions will help you determine if the program is a good fit or not.
Be careful of cookie-cutter strategies. I hear a lot of artists complain that they joined an artist course only to be given a recipe that is not to their taste. Just because a formula worked for one artist doesn't mean that you should follow it. You want to learn about all the options available in your market and create a path that feels most authentic. You want the artist course to speak to your strengths and not force you into someone else's professional formula because it worked for them.
The Working Artist Masterclass is comprehensive. I cover everything from social media to NFTs, from speaking about your work in person to designing websites. If you decide to join my program, you'll also continue to receive new modules as I add to the course, at no additional charge.
The Working Artist Masterclass is designed to take you on an introspective journey as you chart your course forward. It's suitable for emerging artists as well as mid-career artists looking for a reboot.
Does the Artist Course Offer Support?
Finally, the last thing to consider is the level of support you'll receive from the artist course you're looking at. If you are looking for someone to keep you accountable and make sure you follow through on your tasks, you might be better served from a private artist coach. I focus on helping artists who are happy to do the work.
However, if you're willing to work through the course materials at your own pace, at a time that suits you, I believe that you will achieve your goals. The Working Artist Masterclass can be joined at any time. There's no expiry date. No need to wait for the course to open for enrollment, you can get started whenever you feel ready.
The Working Artist also offers additional support with free monthly calls, where I am happy to answer all of your questions. We have an amazing supportive international community of artists on these calls. You can also join my free Facebook Group, where you can request feedback on your art from your fellow artists, as well as receive additional support from myself.
Ready to join?
If you want a seasoned pro to guide you toward a strategic plan for your career, you can find no better investment than The Working Artist Masterclass. I guarantee it.
If you have any questions about the course or the curriculum, you can email me at [email protected]
Would you like to SHOW + SELL MORE ART? I've helped thousands of artists and I can help you too.
Join now. It's free. No spam. Unsubscribe when you want.