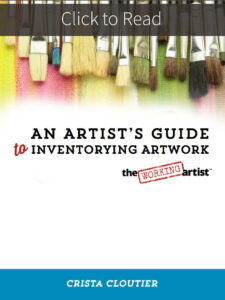 A recent study of aging artists in New York City reveals that "artists are in many respects a model for society, maintaining strong social networks and an astonishing resilience as they age."
However, 61% of professional visual artists over the age of 62 have made no preparation for their work after their death; 95% have not archived their work; 97% have no estate plan; 3 out of every 4 artists have no will and 1 in 5 have no documentation of their work at all.
Why does this matter?
Because research shows that the posthumous reputations of artists are linked to both surviving examples of their work and proper, thorough documentation.
In other words, most of the artists whose work we continue to celebrate after they're gone kept good records.
But keeping thorough records is neither fun nor sexy. Is it?
Instead, like doing our taxes, it's something we tend to put off. And then scramble like hell to cobble something together only when it's needed.
Visual artists leave behind a body of work after they die. But because so few make plans for its continued survival, the sad fate for most this art is the dumpster.
Don't count on your family. Don't count on your dealer. Creating a proper record of your career and archive of your work is ultimately your responsibility.
And I'm not just talking to elder artists either. Let's be honest, none of us knows when death will come.
So here are a few tips that you may find valuable:
Sign and date your work as soon as it's completed.
Save all of your submissions. Whether it's for an exhibition, contest, grant or residency, save it all. This will become a rich resource that you can return to again and again.
Create a database with all of the pertinent information. Consider enriching the information with details of where you were, what influenced you, materials used, any story that might inform future generations.
Don't count on digital records alone, keep hard copies too. Technology changes fast and a document you create today may become inaccessible in just a few years. (we've seen this many digital films – already lost forever)
We've learned so much about artists of the past through their letters. With the fleeting nature of email, our own correspondence vanishes as soon as it's sent. Print and save your most important emails.
I've collaborated with Artwork Archive to create a free resource to help artists create a system for archiving their work. I am attaching it again because it's a great place to start.
(Note that I do receive a small commission should you decide to work with Artwork Archive)
But you don't need to make this investment, an archive is something you can create on your own.
The point is to create a system that's clear, that's consistent, and that's accessible – both now and after you are gone.
Because your art deserves to live forever.
Join my list and you'll receive my tools to up your game as a working artist and deepen your practice.