Since this global pandemic began, I've been calling for artists to lead.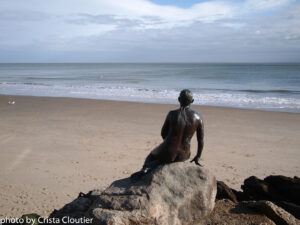 But how can an artist lead when confined to their house with no resources?
How can an artist lead when the whole world seems to be broken?
I've been meditating on these questions for myself and I'm starting to get some clarity.
The world needs a new version of itself.
A version that values creativity and beauty and meaning. A version that holds people above profit, above this infatuation humans have with money. A version that allows for differences while embracing the Oneness of humanity and in fact, life itself.
That version of the world is struggling to emerge. Right now, in this moment in history. This is what we're witnessing. But what that version needs, and I believe that where artists can lead, is in the vision.
And who better to create that vision than creators? Artists.
I challenge you to rise to this occasion. I believe that this is why you are alive right now and why The Great Creator has called you to be an artist.
How do we hold a vision for the world? As artists, I believe this is where we can use our strengths, through the power of our imagination and the power of our work.
Look at your art, whatever it is. What's it about? What is it trying to say? Can you use your work and your imagination to start creating this new world?
It's easy to feel helpless. We're all scared. The news. The weather. The anger. The fear. Yes, it's all real. But there is something even more real. Even more powerful; your imagination and its ability to create.
You are a creator. Create. Create a new world. Start with a vision and then let that vision guide your work, guide what you express and how you express it.
I've said it before and I will say it again; it's time for artists to lead. It's time for you to lead. This is how you do it. Let's each of us vow to engage in a daily practice of envisioning the world we want to live in. And to use our work to express that vision in whatever way we are moved to do so.
I've created a short meditation to help you to envision this new world. Hit play on the audio below if you'd like to participate.
Let's change the world.
Learn how to approach to art-world decision makers, create revenue streams, and get paid more being who you are – an artist. Join my list, it's FREE, and I'll share everything I know about working as an artist.