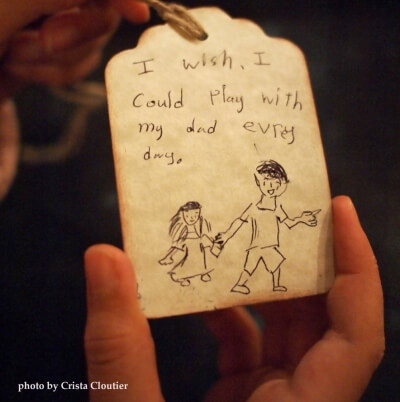 Do you remember when you first knew that you were an artist?
I do. It began when my Dad gave me a gift.
Let me explain.
My parents were divorced and Dad lived far away. Though I loved him like mad, I rarely saw him.
When I was 16 years old, Dad invited me to join him on a two-day business trip to the city. He'd be in meetings during the daytime, but we could hang out together in the evenings.
It would be a huge adventure.
To keep me occupied while he was at work, Dad showed me how to use his old Olympus OM-10 camera. Dad loved to collect things like cameras and gadgets, but I'd never taken pictures before.
"There's only one roll of film in the camera," Dad warned. "That's 36 shots for two days. Choose your images wisely."
When I remember those two days, I remember how it felt to be so free. I wandered the strange city with that Olympus OM-10 around my neck and followed my instincts as I hunted for photographs.
I had all kinds of adventures!
Two years later for my 18th birthday, Dad sent me a gift. I'll never forget opening that package and finding his old Olympus OM-10 camera.
That camera became my best friend. Together, we explored the world as I sought to find my place in it.
For years, I shot pictures at sporting events and public gatherings, thinking I might become a photo-journalist.
Later, people began to hire me as I picked up commercial photography work.
But it was when I changed my college major to fine-art photography that I knew I wanted to be an artist.
I used that Olympus OM-10 for all my assignments, and even took it with me for a year abroad.
When I returned home, my Dad died.
It happened unexpectedly – right before my wedding. I was marrying a photographer of great repute. I'd considered quitting photography myself, not wanting to share a profession with my husband.
And then on our honeymoon, my Olympus OM-10 was stolen.
I've never missed anything so much. That camera was a part of me, my story, and the only thing I had of my Dad's.
I took the loss as a sign. So I created a new life for myself, without a camera.
I began representing other artists and photographers, selling their work to museums and galleries, helping to grow their careers.
But I missed my Dad.
One Christmas, I pulled out the boxes of slides he'd left behind. I poured myself a glass of wine as I sat in the dark looking at the projected images of his photographs.
I loved my Dad but he was no photographer. The vast majority of his images were pictures of his car, or pictures from the window of his car. There wasn't a whole lot of interesting imagery going on.
Until there was.
One roll. One roll of film was interesting. After literally thousands of shots, one roll captured my attention.
I was mesmerized. I could see what he was going for with each shot. These images spoke to me, making my heart sing.
And then I understood why.
This was the roll of film that I'd shot all those years ago. My very first roll of film. I was able to recognize my own 16-year old eye.
And I liked what I saw.
Even though he was gone, my Dad had given me a gift. He had reminded me that I was a photographer.
I bought a digital camera and started shooting again.
I eventually split with my husband and built up a successful career as an international arts dealer.
My photography was something I only did for myself.
And then one Christmas, a friend sent me a gift.
It was a framed picture. A true work of art, he said. A work by a great artist, someone he thought that I needed to pay attention to.
It was a photograph that I had taken.
Not long after, I made the decision to leave the art business and focus on representing just one artist's work – mine.
Today, I travel the world taking pictures.
My online business school for artists allows me to share what I've learned about showing and selling art. I'm teaching artists how to build their own careers.
And I'm able to use my creativity in service of others.
It's been a gift.
I don't know about you, but 2016 has been rough for me as I suffered some very sad personal losses. Not the least of which was the loss of my image library. My pictures.
Though I had four different back-ups on various hard drives and in clouds, my photo library was corrupted.
I lost thousands of my favorite pictures.
It's been heart-breaking in a way that only another artist can understand. All that work, gone forever.
I wondered if maybe it was time to step away from photography?
A few weeks ago, I dropped by a neighborhood garage sale to poke around. There, still in the box, was a pristine Olympus OM-10 camera.
"It's never been used," said the owner. "Someone gave it to me as a gift in 1979 and I never even took it out of the box."
It was a gift. To me.
It felt both familiar and strange in my hands.
Shooting an old film camera is nothing like digital. It makes me work slowly, to focus, to make every shot count. This Olympus OM-10 is teaching me about myself as an artist all over again.
It's a wonderful gift.
Gift.
I love that the word to describe an artist's talent is "gift." Don't you?
In many ways, all artists view their creativity as a gift, a special endowment that we're entrusted with. For better or worse – right?
When did life first show you that you had a gift?
What do you hope to do with it?
My wish is that 2017 is the year for you to share your gift in a way that makes your heart sing. And lets the world take notice.
Join my mailing list today if you would like to receive more stories like this, directly in your in-box!