"The true job of an artist is to create an artist," said art historian Harold Rosenberger.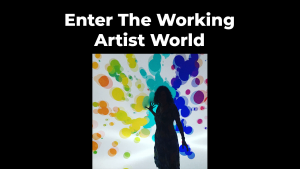 I believe that's true. Don't you?
Like most artists, the road to creating the artist I am and the artist whom I wish to become has never been straight.
That road always twists and it turns, doesn't it?
But artists are created just like art itself, over time. I am a Working Artist.
And I created this short video to show you the artist I'm creating.
Who is the artist you are creating?
Learn how to approach to art-world decision makers, create revenue streams, and get paid more being who you are – an artist.
Join my list, it's FREE, and I'll share everything I know about working as an artist.