I think it's in an artist's nature to have faith in the unknown, to deal with intangibles. After all, we work from nothing more than an idea and a dream. It takes faith to actualize the invisible.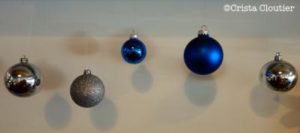 But times are tough for dreamers, and faith is hard to come by. That's why I love the Christmas season, because it reminds me of those days when magic was truth and belief resolute.
I was 4-years old; and my cousins and I were spending Christmas at Grandmother's house.  On Christmas Eve, Santa Claus came to visit, as he did each year. He collected my lengthy list, asked pointed questions about my behavior, and left me with a candy cane. "There you go, Pesta," he said as I crawled off his lap.
Pesta was my uncle's nickname for me, a cruel but apt derivative of Crista. But how did Santa know that? Surely "Uncle Skunkle" hadn't told him?
There was something familiar about Santa that year. He sounded an awful lot like Uncle Skunkle, and laughed like him too. I looked around the room of grown-ups, each tipsy on hot cups of Tom and Jerry, and I noted that Uncle Skunkle was not amongst the tippled. Something was up.
After my cousins and I had all been put to bed with promises of Santa's return, I tip-toed back downstairs. Uncle Skunkle was alone by the Christmas tree, drinking a beer. "You're drinking Santa's beer!" I screamed accusingly. I'd left that beer out specifically for Santa, just as he'd requested.
I started to put the pieces together, listing all of the inconsistencies I'd witnessed in Santa over my four short years. And then I drew a horrifying conclusion, "Maybe there is no Santa Claus. Maybe you're Santa Claus!"
Uncle Skunkle sighed as he looked out the window and considered the appropriateness of my nickname.
"There!" He pointed toward the night sky where a radio tower blinked off and on in the far distance. "Do you see that? It's Rudolph, the red-nosed reindeer. He's leading Santa's sleigh. And Santa's going to be very angry to hear that you don't believe in him."
I peered into the darkness and saw the faint red light. My heart pounded. Rudolph! He's coming! I could see the outlines of the other reindeer behind him. Santa Claus was on his way.
And today, each time my eyes happen to fall upon the red lights of a radio tower, I still see the red nose of Rudolph flying toward me.
I still believe.
Would you like to SHOW + SELL MORE ART? I've helped thousands of artists and I can help you too.
Join now. It's free. No spam. Unsubscribe when you want.