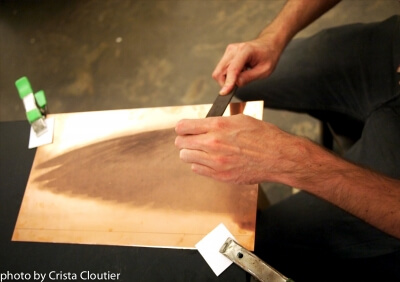 There are several definitions of artists that I personally subscribe to, but my favorite is this: artists are alchemists.
During the Middle Ages, an alchemist was known as someone who could transform base metals into gold.
I believe that as artists, we turn everything into gold.
Think about it.
Through an artist's touch, a blank canvas is transformed into a work of expression and beauty. A dilapidated neighborhood wall becomes a visual message of hope and community. A lump of clay becomes imbued with meaning.
Everything we touch turns to gold.
And our work doesn't end in the studio.
For it requires faith to be an artist.
Faith in the whispers you hear in your heart.
Faith in the visions that play in your head.
Faith that your work is leading you on your soul's journey.
Faith in success — and even faith in failure.
Faith in failure?
Yes, for an artist is an alchemist — remember?
And everything you touch turns to gold. Even failure.
This is a mantra worth repeating. Try it now:
Everything I touch turns to gold.
Here's an example:
A few weeks ago I attended the Scottsdale Arts Festival with a film crew in tow. I wanted to interview artists for a new workshop that I'm creating — The Working Artist's Art Fair Essentials.
I had to hit the ground running because I'd only just landed the day before, after a grueling 14-hour flight from South America.
I scared away the jetlag with coffee. I memorized my questions. I was having a good hair day. I was ready to do this!
But when we arrived at the festival, I realized that I'd chosen the wrong day to shoot. The artists were setting up their tents, not their displays.
They wore work gear and were focused on the tasks at hand. No one wanted to be interviewed.
It was a disaster. I had to re-book my film crew to return again the next day.
I was terrified that my new workshop was failing before it ever began.
So I repeated The Artist's Mantra: "Everything I touch turns to gold."
And in spite of the trouble, the time and the expense, shooting the next day actually did work out better.
We knew when the light would be best. The artists looked great and confident on camera.  I myself had gotten a proper night's sleep and was able to relax and have fun.
Gold.
Two weeks later, I hired the same film crew to shoot the "meat and potatoes" of Art Fair Essentials, the actual tutorial itself.
It took hours of set up, concentration, and patience as we shot take after take.
But when the director uploaded the video the next day, we found that there had been a small spot on the lens. It was barely discernable but once we saw it, we couldn't stop looking at it.
We had to reshoot. The whole thing. Again.
EverythingItouchturnstogold
EverythingItouchturnstogold
EverythingItouchturnstogold
I desperately chanted The Artist's Mantra, trying to convince myself as time and resources spiraled out of control.
But do you know what?
By studying the footage, I was able to pinpoint other issues to improve — the script could be tighter, my outfit wasn't working, the set looked lackluster.
We did shoot the whole workshop again, this time in a much better location – a letterpress studio.
The result was gold.
Today, I'm writing this message to you from New York City. I'm here to speak about The Artist's Journey at Art Expo, a huge international art fair with a 39-year history.
Once again, I've hired a film crew to follow me around the fair so I can interview artists about their experiences exhibiting in art fairs.
What could go wrong?
Absolutely nothing.
Because I know The Artist's Mantra. So even if it goes all wrong, it will be alright.
I'm just getting dressed now, and I leave for Art Expo in a few minutes.
Wish me luck in my quest for gold!  I have a feeling I'm going to find it.
Because I know The Artist's Mantra. And everything we touch turns to gold.
Let's stay in touch. Join my mailing list today to receive more stories like this directly in your in-box.