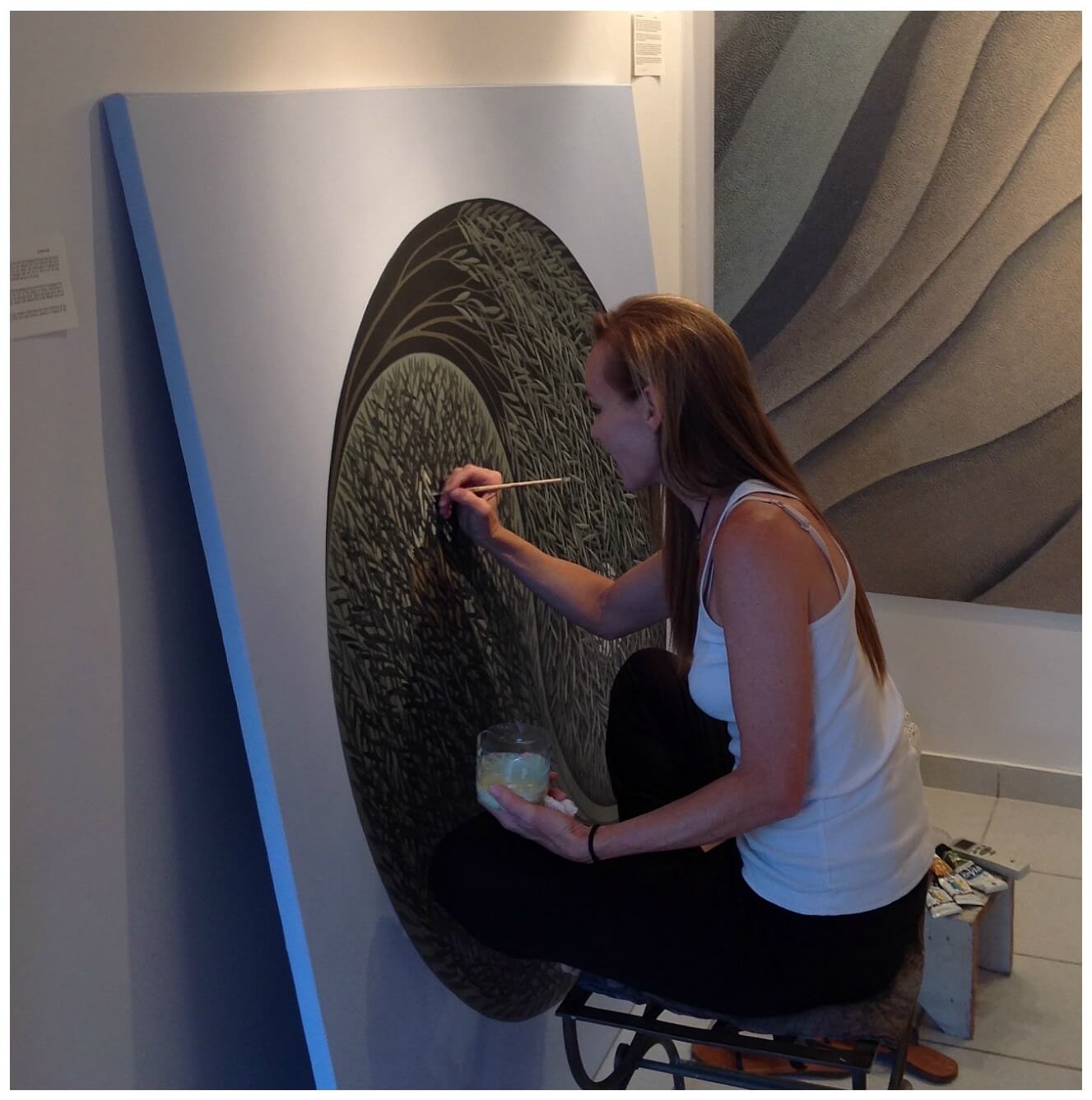 Donna Skaropoulou is a painter.  Originally from the U.K., she traveled to Greece in her early twenties, and there fell in love with the sounds, scents and colors of Mykonos. She stayed: married, had children, and it wasn't until 2005 that she opened her gallery and studio Lifeline Art Studio.
Donna became aware of The Working Artist through a circuitous bit of serendipity when she stumbled across the website of an artist who shared much of the same background as her. She was impressed with this artist's work and her story.
That artist, Ceridwen Jane Gray, had been on of Crista's earliest students and was enthusiastic about the impact The Working Artist had on her career. So Donna took the leap and gave The Working Artist to herself as a birthday present.
"My biggest problem was a lack of confidence," said Donna. "I was terribly ill-prepared for the business side of things. If anything, running the studio freaked me out. But now it's the business side that fills me with the deepest sense of satisfaction! Because now I'm free to do what I love most.  And I know that I can trust my 'safety net'…my website, my online profile, my blog."
"I'm all set," she continues. "My walls are covered with artist statements; my desk is covered with prints, gift postcards and my business cards. Even if I'm not in the studio they continue to work for me, to represent me and my art!"
Before taking The Working Artist, Donna admits that she was not the best ambassador for her own work. She was too shy, too self-protecting.  When she started taking the steps that Crista outlines in the course, "it changed everything."
Donna feels strongly about artists who wonder whether or not to take The Working Artist. "It's probably a good sign you need to."
"Once you've gone through all the steps," she says,  "it becomes a joy. The business side is fun, and you gain so much satisfaction."
"At the end of the day, an artist wants to be understood. If you don't work through these steps, you're going to be isolated. With the guidance plan prescribed by 'The Working Artist', what began as a practice of 'escapism' has grown into a journey of discovery – a journey no longer walked alone, but in the company of many. Discovering Crista Cloutier's online workshop was pivotal for me, both as an artist and business owner. I've never looked back – except in wonder!"
Donna's work can be found at http://www.lifelineartstudio.com