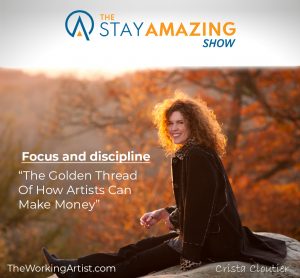 This interview was Amazing!
Why?
Because I was interviewed by Ricardo Canez of the Stay Amazing Podcast. 😉
But seriously, it was a lot of fun; as you'll realize each time you hear me burst into giggles.
I hope that you enjoy listening to this Amazing conversation as much as I enjoyed having it.
Stay Amazing!
Crista x
Art podcast inspirationPS: It wasn't all just fun and games. In this podcast I spoke about:
What happens when artists choose the wrong path
How artists achieve huge success
The best ways to market your art
A new way to think about discipline
The day I made an artist cry
The subject of money and art
Learn how to approach to art-world decision makers, create revenue streams, and get paid more being who you are – an artist.
Join my list, it's FREE, and I'll share everything I know about working as an artist.