A Message from Salvador Dali to You
Once upon a time, I wrote a musical for the London stage.
Dali: The Musical told the story of artist Salvador Dali in three acts. It was, I must admit, one of the coolest projects I have ever worked on.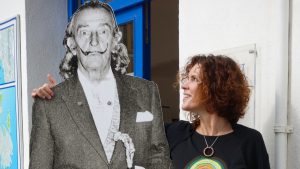 I didn't write this musical alone. And though our play got close to being staged, it never actually was.
However, I wanted to share one of the songs from the musical. I wanted to share it because I wrote this song for you.
I wrote it for all artists.
Love him or hate him, there is no doubt that Salvador Dali left his mark on the history of art. I wondered what Dali would think of his legacy now? If he were to jump into the present-moment what advice would he give to other artists?
If Salvador Dali could speak, what would he say?
As I asked the questions, the words started to come. And this is the song I wrote as a message from the late great Salvador Dali to you.
I hope that you listen.
Crista x
HOW DO YOU LIVE
YOUR ONE AND ONLY
REMARKABLE LIFE
USING ALL THE COLOURS IN YOUR PALETTE
OR TAKING CARE TO STAY WITHIN THE LINES
HOW DO YOU LIVE
YOUR BEAUTIFUL LIFE
HOW DO YOU LIVE
YOUR ONE AND ONLY
MAGICAL LIFE
DO YOU USE THE RED BLOOD FROM YOUR VEINS
OR CAN YOU ONLY THINK OF THE PAIN
HOW DO YOU LIVE
THIS BEAUTIFUL LIFE
GIVE ME THE LIGHT
A DRUM ROLL RAT-A-TAT
LIFE IS THE SPOTLIGHT
COULD I LOSE SIGHT OF THAT
THERE'S SOME WHO MIGHT MOCK
AND DAMN ME TO HELL
THERE'S SOME WHO IGNORE ME
I DANCE, AND RING MY BELL
GIVE ME THE LIGHT
THE GIFT OF EVERY BREATH
MY LIGHT SHINES ON
BEYOND MY DEATH
GIVE ME THE LIGHT
FOR I CHOOSE,
INCREDIBLE,MAGICAL,
TRAGIC,FARCICAL
WONDERFUL
LIFE
GIVE ME THE LIGHT
A DRUM ROLL RAT-A-TAT
LIFE IS THE SPOTLIGHT
COULD I LOSE SIGHT OF THAT
GIVE ME THE LIGHT
FOR I CHOOSE
LIFE