Through my work, I meet a lot of artists. And the question I get asked most frequently is, "Crista, what's the best way to inventory my art?"
Until recently, I searched high and low for a resource I could share. Excel spreadsheets suck. Everything else seemed too complex, too expensive, or too clumsy. Then I found something I could recommend.
Download my free eBook and learn how you can best keep track of your art inventory, whether you choose to invest in an online system or go it alone.
Don't wait for disaster to strike before putting a system in place. Start planning for your success now!
Just click on this image to download the pdf: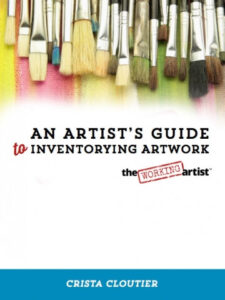 Join my mailing list and you'll receive weekly emails full of FREE information about transforming your art practice. Sign up now!